#612 Finally Hits The Water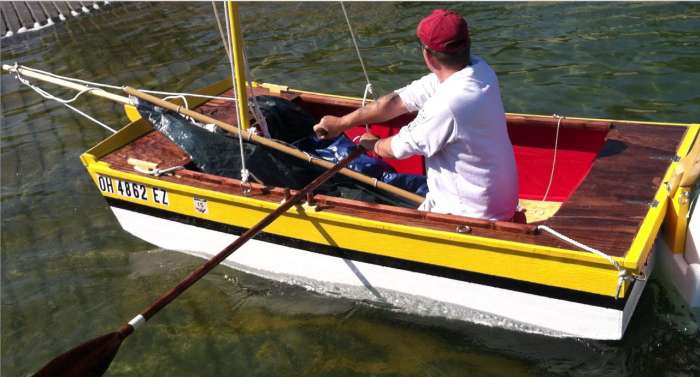 Shorty,
Finally got wet on June 3 @ Eastwood Lake in good 'ol Dayton Ohio. Quite the experience, learned a lot. Definately have a list of things I need to work on for next time. But by far, it's been one of the most satisfying projects I've done in a long time.
I had a bit of a struggle getting off the dock, the wind was blowing right into it and kept me pinned. I bounced along the dock, then down the shore....quite comical actually. Eventually I managed to get clear and sailed off. Quite a good feeling. Boat was solid and stable. Only problem I had was I couldn't sail to windward to save my life...so...I just cruised down the lake.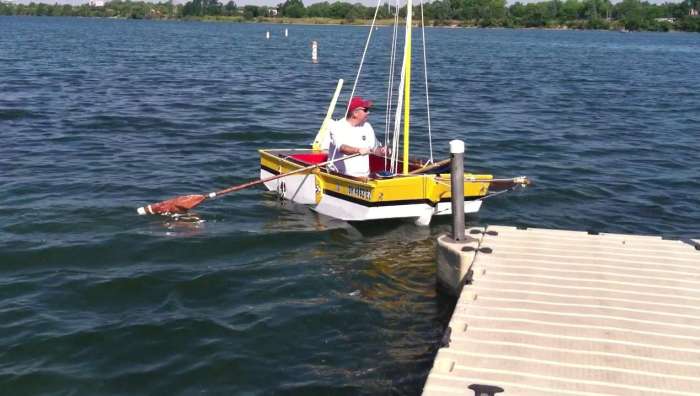 Only real bit of trouble was I was out in the middle part of the lake, and I felt a thumping...then it became quite loud. I was hitting something but wasn't sure what. I sailed on a bit further and found out my bottom rudder pintle had been pulled out of the skeg...more like ripped out. So,..rudder-less...I got blown into shore right into some fishermen. They were good sports about it, obviously realizing I had no clue what I was doing ( L.o.L.)
Have to fix the rudder,...and make a new sail...few odds....But I still consider it a fun success !

Christopher
Royal Mallard #612