Puddle Duck Race 5 - Page 1
By Doug Day (retired) #1 "DUB"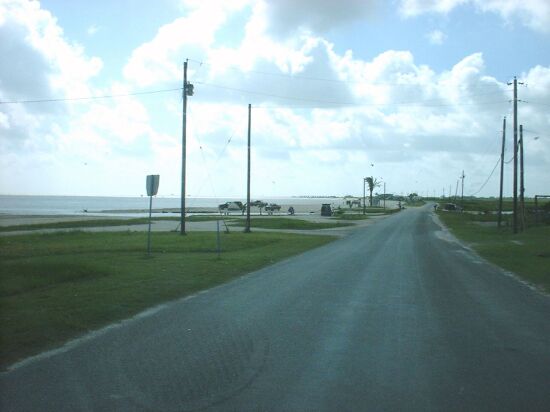 It wasn't that bad of a drive down from Houston, only took about 2.5 hours one way. The wind was blowing a bit starting at 10 mph and grew to a steady 16 mph (looked up next day at accuweather.com).
In this picture you can see in the distance, in the center of the photo, the beach we had the messabout at.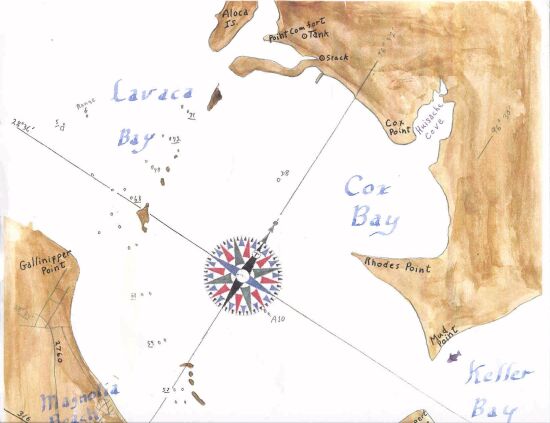 Gerard drew up this beautiful map of the area. We were at Indianola Park, which is marked on the map. You can see how it is a slightly crescent shape, the wind was blowing mostly from over the land so we had some protected flat water, yet had the strong winds.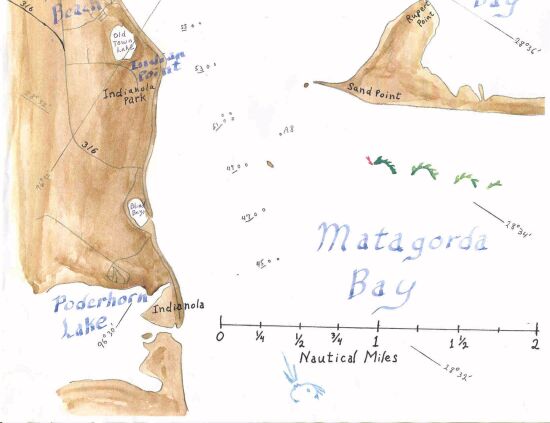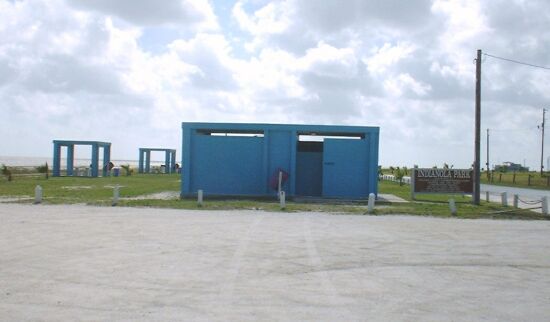 The park did not have showers, but it did have this bathroom. The toilets would flush, but there was no paper or water for the sinks. Each of the funky blue picnic shades were on a first come, first serve basis. No admission fee, just drive up and squat on your spot. Camping is allowed along the entire stretch of beach. South at the point they have signs posted prohibiting swimming out there, there is a current out there so not a good idea anyway.
As the day went on, families would come and go vising the beach. Since the wind was blowing from the land, every so often you would see an inflatable mattress or beach ball blow out into the water and start it's journey to the far side of the bay.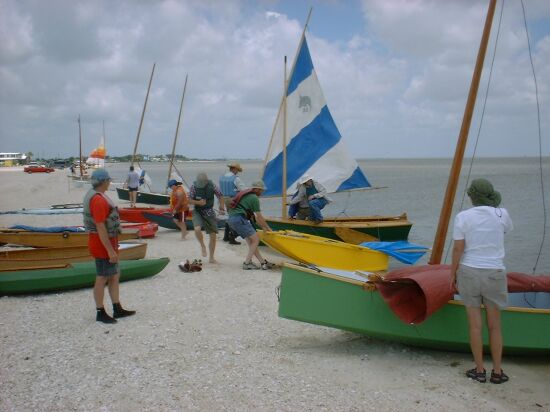 Had a really good turn out, a good variety of boats showed up.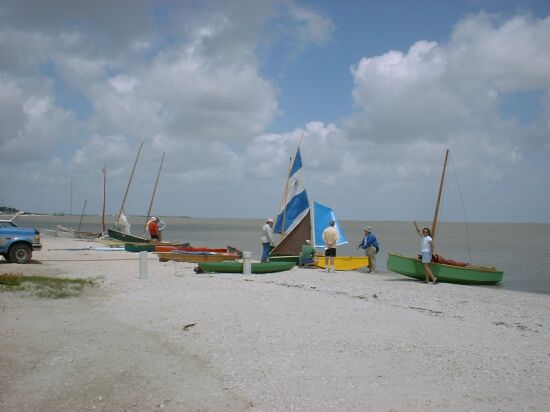 About half the people were there when I arrived at 10am, and the rest arrived soon after.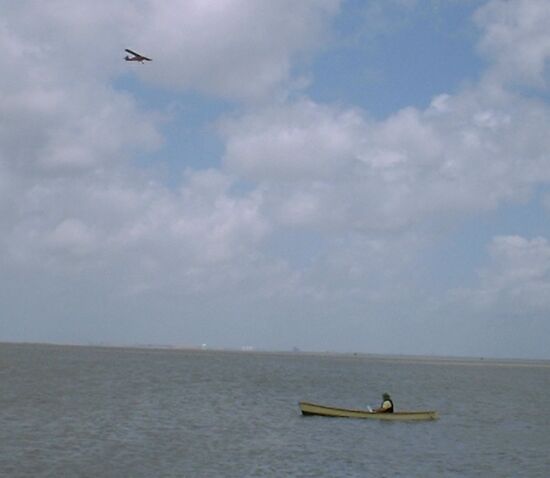 Tim Cowden's friend Bob Ziegenhals flew overhead in his 1940 Aeronca airplane and took photos of us.
-- DIRECTIONS FROM HOUSTON TO PALACIOS -- (138 miles )
S on I-45, go 30 miles from The Woodlands
S on 59, go 69 miles
L (south) onto TX-71 go 21 miles
slight Right onto TX-35 W. go 12 miles
arrive in Palacios
road curves right, continue to the west
--- PALACIOS TO INDIANOLA BEACH, MATAGORDA TX --- (40 miles) continue W on 35, go 30 miles, Cross railroad tracks
sharp left on 87, go .1 miles
sharp right on ALCOA DR/FM 1090, go 0.8 miles
R on TX-238/W AUSTIN ST, go 3.2 miles
TX-238 becomes TX-316, go 5.5 miles
L on FM 2760, go 1 mile R on Ocean Drive
follow for 1 mile along the water, look for goofy blue structures
Destination is: N28-33.580 W096-32.203 ( 28.55966 North 96.53672 West )
back to main page