Boy Scout Troop 125 Duck Hatch - Puddle Ducks #501 #544 and #545
By David Chamness #336 "Whack Whack" (5es 2eo 3ea 4ad 2ar)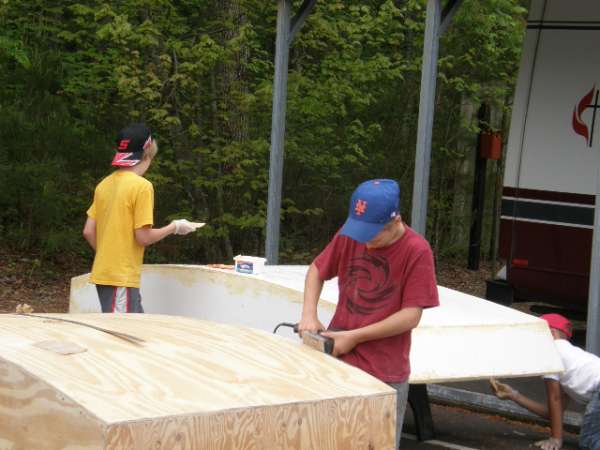 In 2010, the Boy Scouts of America decided to offer a few "Historical" merit badges. These are badges that had once been a normal part of the catalog of merit badges boys could earn, but had been pulled for one reason or another. One of those badges was Carpentry. The Scoutmaster for my troop, Troop 125, asked the members of the Committee if anyone could sponsor and teach that Merit Badge.
I looked at the specifications and thought about what was necessary to build a Puddle Duck Racer. There was the use of a ruler, square, level, plumb-line, mitre, chalk-line and bevel. The only one of those that we don't use in building the boat is a plumb-line. There is the requirement to drive and pull nails, and to join two pieces of wood with screws. Those are both useful skills for boat-building. The Merit Badge also includes the requirement to use a cross-cut saw and a rip saw, and to use a plane to plane boards on the surface and the edge.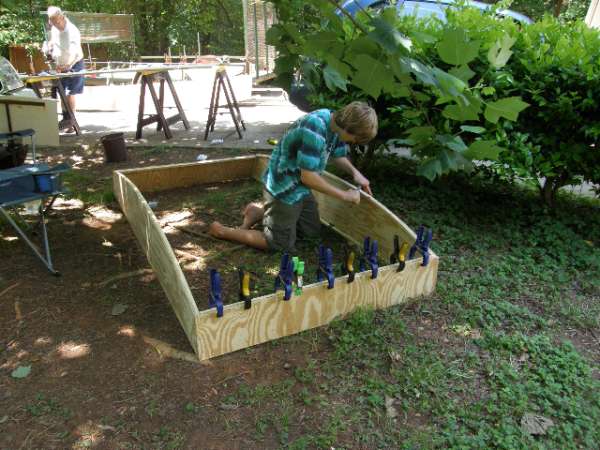 The only part of the requirements that I could not thing of a boating use for was laying shingles. I decided that I'd offer to teach the Merit Badge, using Puddle Duck Racers as the project that we would work on to sign off requirements. I proposed it to my Committee, who all agreed that it would be a good idea.
Our local Sea Scouts, Ship 100, had been involved in the Puddle Duck World Championship race and had decided afterwards to build several Puddle Ducks. Since I was going to get the Boy Scouts to build some, and they were going to build, some of the nice folks with Ship 100 reached out to the community to get some of the materials donated. They supplied the plywood and the framing materials for several boats for a nominal fee (I think we paid $15 or $20 per boat).
I've worked with these boys now for about seven years (some for the full time, some only for a few months). Building anything with boys ranging from 11 years old to 18 years old is a bit like herding cats. When you have three boats, dozens of pieces of wood, saws, knives, hammers, power tools, tubes of glue, and various pieces of additional gear (Mr. Dave? What is this?) all in motion at once, it gets to be a bit of a juggling act.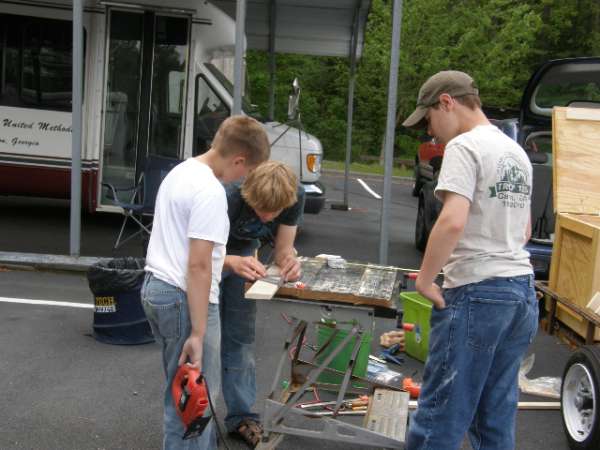 I wanted to spend time with each of the boys, showing each one how to do each task necessary to build a project like this, but after we got started, reality set in. We have over thirty boys in our troop, and we were building three boats at once. I barely had time to answer one question before someone 20 feet away had another one. If it had not been for other adults lending a hand, I don't know what I'd have done. Fortunately, we had a bunch of adults that chipped in, at least during the early stages of the builds.
Something to realize when starting a project like this; building a boat is not like building a bird house. You cannot get it done in a single hour and a half meeting. In fact, it takes more than a couple of meetings just to go 3D on your boats. Because of the size and complexity of building something like a Puddle Duck, we could only really spend a few Scout meetings on building them, before the Troop went on to other planned activities. All building efforts after that were done on "Puddle Duck Work Days" that I scheduled on Saturdays when we weren't doing something else, like hiking the AT or bicycle riding on the Silver Comet Trail (30 miles last weekend!) There are not many free weekends, and I discovered that on the one weekend a month (or so) that we didn't have something planned many people opted to stay home rather than do another optional activity.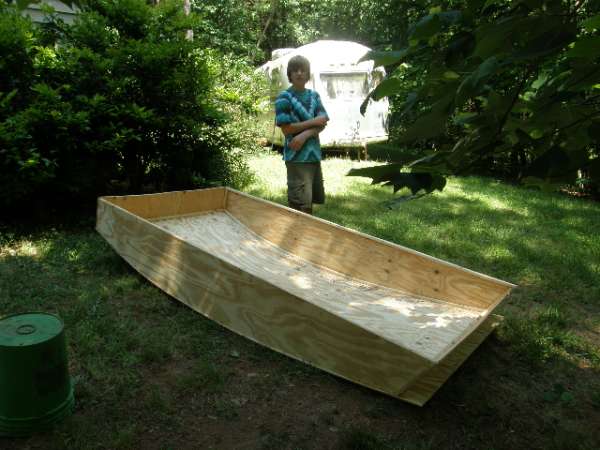 So, while the first part of the build went very quickly, the rest of the build went much more slowly. We had a couple of scheduled work day when the only people that were there to build were my boys and one or two other scouts. Since these are the boys' boats, not mine, I want them to do the work. When only a few boys show up, the work progresses more slowly.
Still, progress the work has. We have our first sailing adventure scheduled for May 6th, on Lake Allatoona, where the 2009 Worlds were held.