Leak Test First Sail of 618 Happy Adventure
By Gene Berry #618 "Happy Adventure"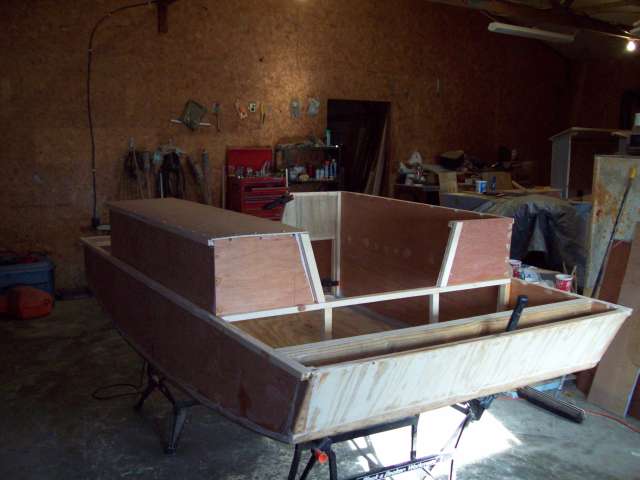 Got a lot done on Happy Adventure today. I thinlk she will be in the water by next weekend at the latest. I didnt get to leak test her today because the tape on the seams looked like it could use one more day drying but for sure Friday she will be wet. I am thinking orange with black spots for a paint scheme like the Cheetos Cheetah. I like my boats to be seen, especially a small one like the PDR.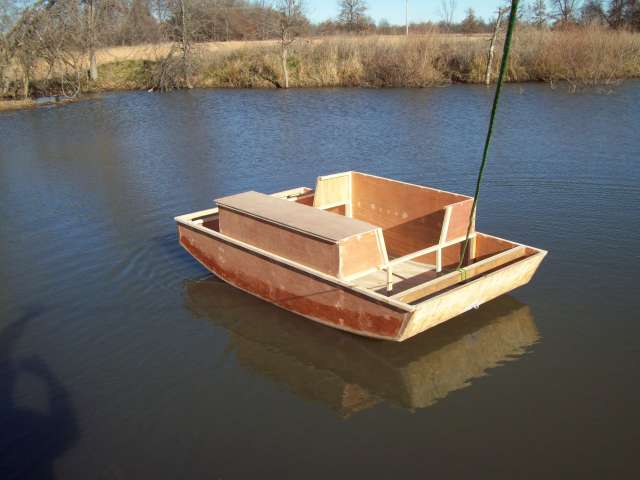 [Next Weekend]

Happy New Year to you Shorty,
I dumped Happy Adventure in the pond today. Tight as a drum and didn't leak a drop. This is her floating high and dry, the next picture is 1/2 full of water. I wanted to see how low in the water she would set swamped. I left the decks off so I would be able to better see if there were any leaks, so of course when I turned her over she filled with water.
My math escapes me right now for volume but it is easy to see she has a lot of water/weight in her. I left the other half of the roof off so I can fit a single piece of 5.2 mm ply in for a cabin floor doubler (the bottom is a single 1/4" ply) after I leak tested her.
I dumped her over and hauled her back in the shop. After she dried out I put 2 coats of primer on her. She will be ready for paint tomorrow! I have been thinking about 2012 stunts I may pull off with her. The MR340 is a 340 mile canoe race on the Missouri river from Kansas City to Jefferson City or St. Louis, I don't remember which, anyway an idea is to piggyback along with that event and then and sail our ducks along with them. Maybe i will look into that!

See you later.
Gene