The making of #618 Happy Adventure - Or Plan B
By Gene Berry #618 "Happy Adventure"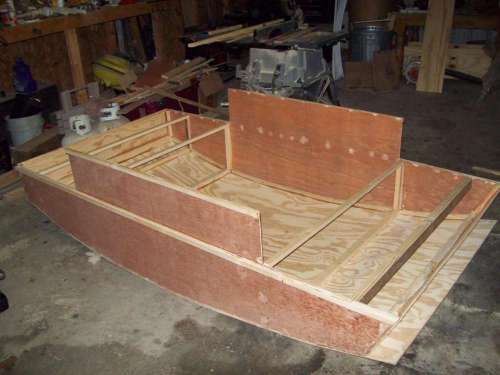 I had been e-mailing back and forth with Shorty about PDR stuff and between us we came up with the Everglades Challenge Same Day Different Place event.
I was talking to Shorty about building a PDR with a cabin and doing some long trips, sort of setting new records for time spent in the boat and distances sailed ect. Iím not much for racing but the PDR still appeals to me due to the easy build and cheep over all cost to get on the water. Iím not in a hurry so the slower overall speed of the PDR isnít a deterrent to me.
Shorty suggested I get it built and do a SDDP of the EC. As it turned out I had already made plans to be on the beach in Florida on launch day to take in the spectacle of the EC start and watch what I hope will be history in the making with Scottís attempt to do the EC in a PDR.
That is where Plan B comes in. I always try to have backup plans for any thing I am planning to do so I have Happy Adventure about half done and will have her completed in time to do a SDDP event to coincide with the EC in the event that for some unforeseen reason I donít make it to the beach for the start of the EC. I will mirror as close as possible the legs of the EC on my local lake here in Missouri.
I have plans to attend a lot of events during 2012 but in my slack time I will be on Stockton Lake in Happy Adventure, maybe you will see me there!

Gene