First Annual Port Alberni Regatta
By Doug Day (retired) #1 "DUB"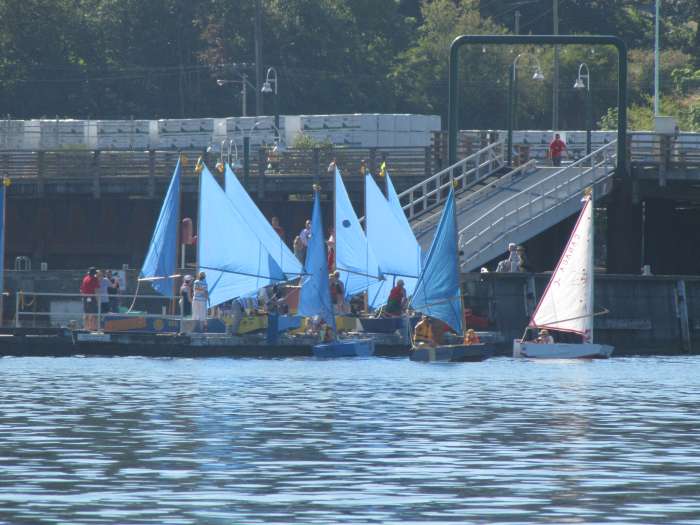 Hi Shorty,
The first Annual Alberni Puddle Duck Regatta was a huge success. We had 17 boats in the harbor for the event - in a town where there were no ducks at all until February this year. I hope that these pictures give you a flavor of the day. You will see that we had very little wind! Good thing the PDRacer is so easily moved in almost no wind. We managed two races before the heat and calm conditions combined to cut the event short by an hour. There was a crowd of several hundred watching from the pier and shoreline. We have been told that our crowd was the largest of the day's centennial events.
The event was won by the Miller family team in "Kind of Blue", second place went to Alexander Miller (no relation) and Peter Ferguson in the "Red Baron", third place was Edwin Knight in "Canada A".
All entries were from boats built in town - most at our two hatches. Four out of town boats from elsewhere on the Island were not completed in time for the race. We are hoping to see some of them at our next event at Harbor Days on August 18th.

David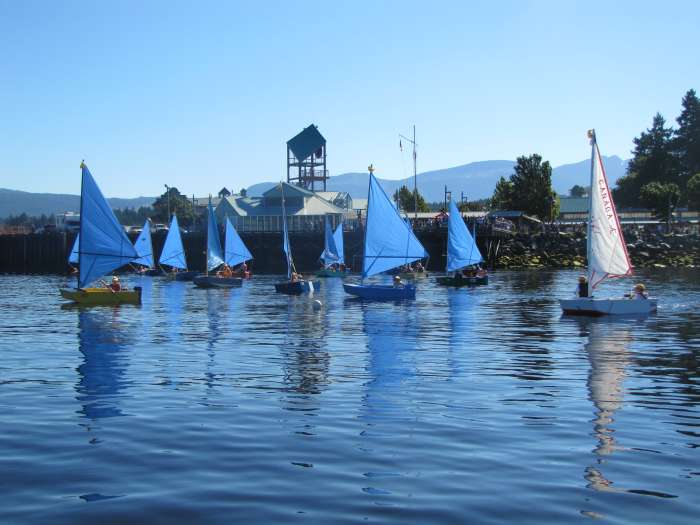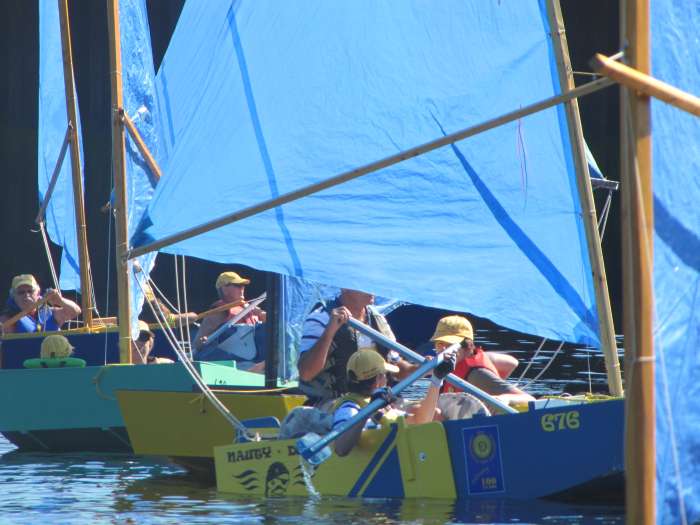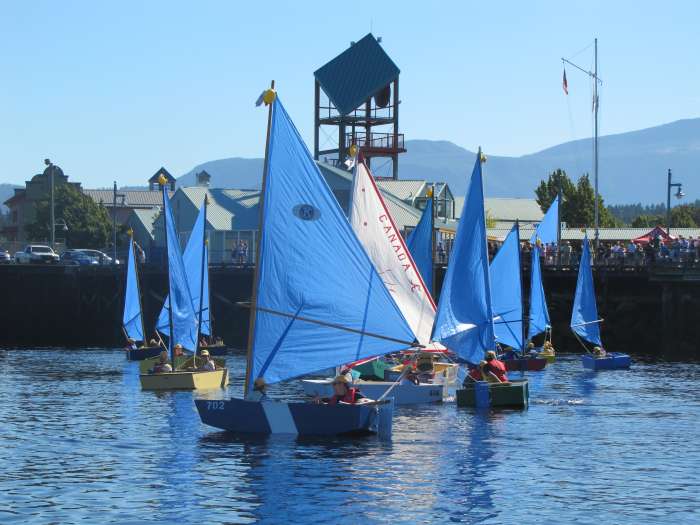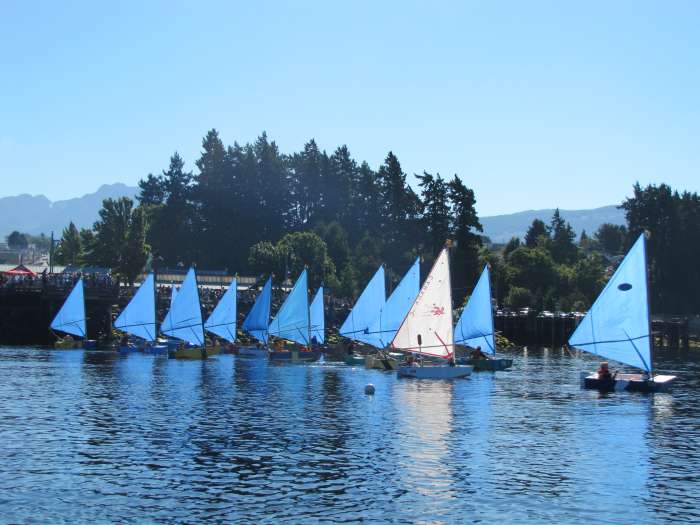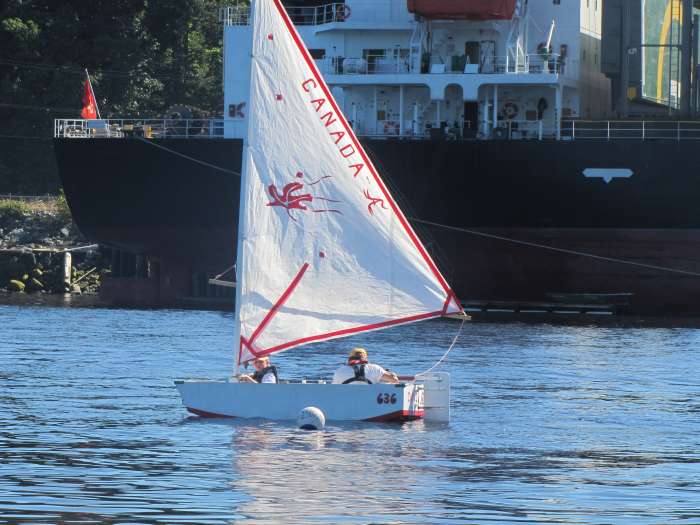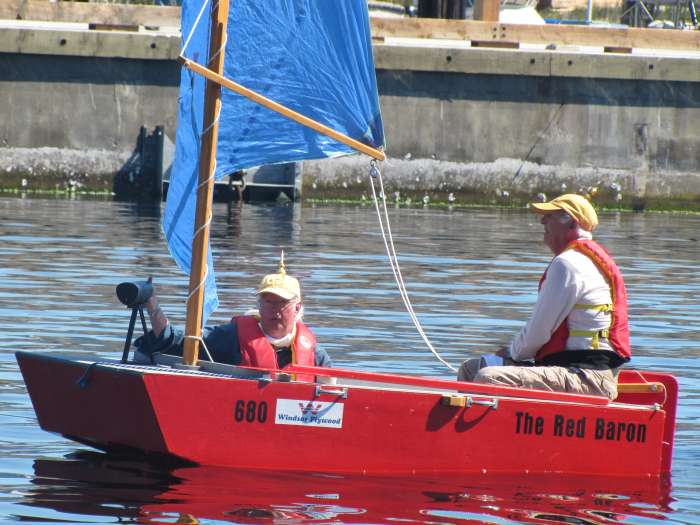 Race Results:
| | | | | |
| --- | --- | --- | --- | --- |
| Boat # | Owner | Regatta Skipper | Regatta Crew | Final Place |
| 678 | Miller Family | Barry Miller | Nathan and Matt Miller | 1 |
| 680 | Alexander Miller/Peter Ferguson | Alexander Miller/Peter Ferguson | Peter Ferguson/Alexander Miller | 2 |
| 636 | Rick Bonell | Edwin Knight | Jacob Salvage | 3 |
| 652 | Sea Cadets | David Prestage | None | 4 |
| 674 | Navy League | David Luckett | Katie Luckett | 4 |
| 679 | Amanda Salvage | Amanda Salvage | Jessica Salvage | 6 |
| 649 | Sea Cadets | David Cox | None | 7 |
| 623 | David Whitworth | David Whitworth | Cindy Solda | 8 |
| 702 | Sea Cadets | Steve Prestage | Kennedy | 9 |
| 673 | Sea Cadets | Louis Charland | ?? | 10 |
| 651 | Sea Cadets | Dave Zyrd | Joshua Zyrd | 11 |
| 677 | Finlayson Family | Chris Finlayson | Calvin Finlayson | 11 |
| 645 | Kenn Whiteman | Kenn Whiteman | Gracie Craig | 13 |
| 648 | Trina Cote | Paul McDougal | Trina Cote | 13 |
| 650 | Bob Sparrow | Ed Fougner | ?? | 13 |
| 675 | Sea Cadets | Mik Mann | ?? | 13 |
| 676 | Carolyn Ness | Carolyn Ness | David Ness | 13 |