Lake Woodlands July 2015
By Cajun man #646 "Allons Canard (le" (2es 2eo 8ea 7ad 14ar)
Its been a long time since my last sail. I want to report that PDracer 646 with no fiberglass is still going strong. In fact, pulling it out of mothballs, the boat had a little water in it from the leakage of polytarp but no issues(probably because I have 10 layers of Kilz :). I would recommend storing it upside down if you are going to leave it outside.
Eric Comstock call for a meeting at my favorite sailing hole, Lake Woodlands. Wind was 5 mph and not constant which I don't recommend for PDracers. I would rather 7 to 10 mph. Although the wind was absent, the 3 PDracers sailed around Lake Woodlands from 12-3. All the while, hearing people say nice sailboat. You made that.
I managed to record a little video and pics before my phone died. Hello to all my PDracer friends. What are you doing reading this article? Dust off the boat and get to sailing on an adventure.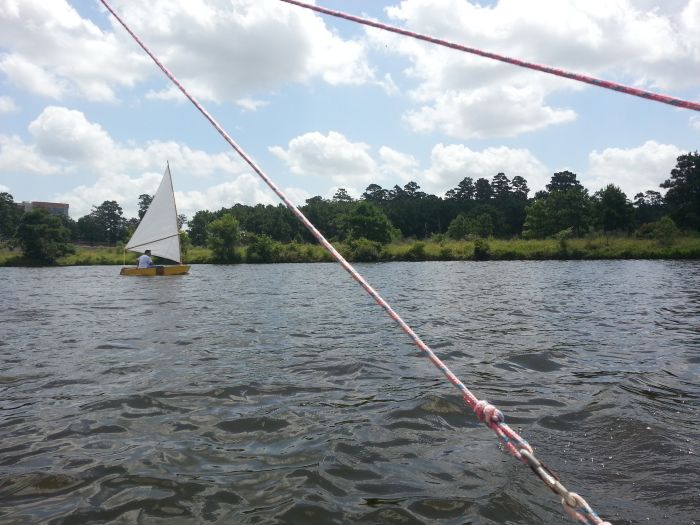 In the navy, we would have a steel beach picnic. Here is Eric(PDR 759) having a PDracer beach picnic. Just another thing the PDracer can do. Create and 8 foot x 4 foot private beach.
The yellow boat in the pic I think is PDR 907.