2014 World Championship
By Cajun man #646 "Allons Canard (le" (2es 2eo 8ea 7ad 14ar)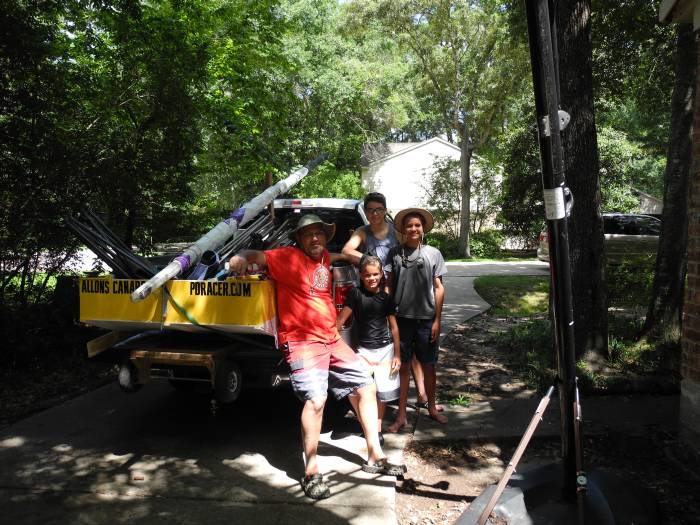 The weekend for me started Friday when me and my boys packed up the boat and camping gear and headed to Magnolia Beach from the Woodlands roughly 2.45 hrs. The first attached picture shows us at the house ready to go.
We got to Magnolia beach around 3:30 just in time to see the Texas 200 puddle duckers coming around the corner. The next picture is 13 of them coming around the corner at Magnolia beach
Also as I arrived, I met for the first time Dave Gray from Polysail international. His boat didn't look like your normal PDracer. It looked like a piece of furniture. It was hull 100 fully epoxy with wood finish. Nice boat. I attached the next picture of me and Dave Gray.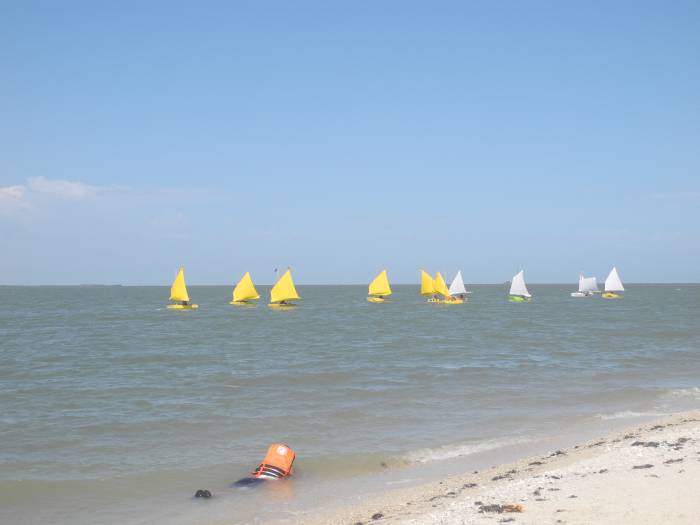 That night came quickly while setting up tents and canopies along with watching the boys swim in the water. I finally got a chance to walk down the beach and took a picture of another person Dave Sanborn's Hull 287. To me, a very iconic boat.
The next morning sandbagging Dave Sanborn was sailing his chinese sail moving rather slowly. But, once the races started he switched sails to a sprit lug. Hence the name sandbagging Dave Sanborn.
I took hull 646 out for a spin early an it was great to get out on the water finally. Last pic is the back of our shirts. Allons Canard 646

more to come..