Building Before Your Eyes
By George Miller

#671 "Quack" (2es 1eo 2ea 1ad 1ar)
George Miller, a stalwart CABBS member, is eager to show just how easy it is to build a Puddle Duck racer from two sheets of plywood and a twelve foot 2X6. He brought his demonstration package to the February CABBS meeting. He had precut the rectangular panels for the bulkheads, decks, and transoms. He also had the side panels cut to the critical bottom rocker shape and the chines and transom frames glued in place.
The Puddle Duck design can be varied in many dimensions to suit the builder's whim. However, the shape of the rocker must conform to a Puddle Duck standard to be considered a Puddle Duck class racer. George cut his panels from luan exterior plywood and ripped a 2 X 6 to make his framing pieces. He's used drywall screws and PL Premium polyurethane glue to assemble the Puddle Duck's he has built.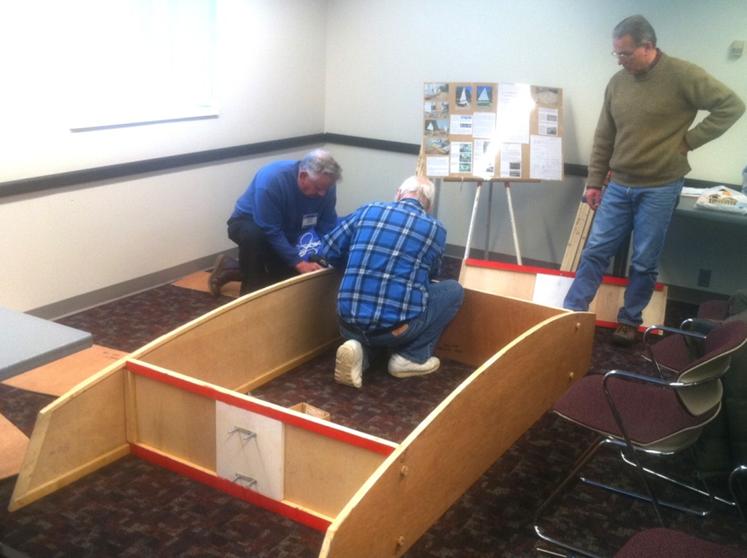 George assembled his precut pieces with the help of Jack Davidson and Chip Caine and in ten minutes they lightly screwed the demonstration hull together. Affixing a bottom panel would have completed the hull and latex house paint would be used to colorfully finish it off.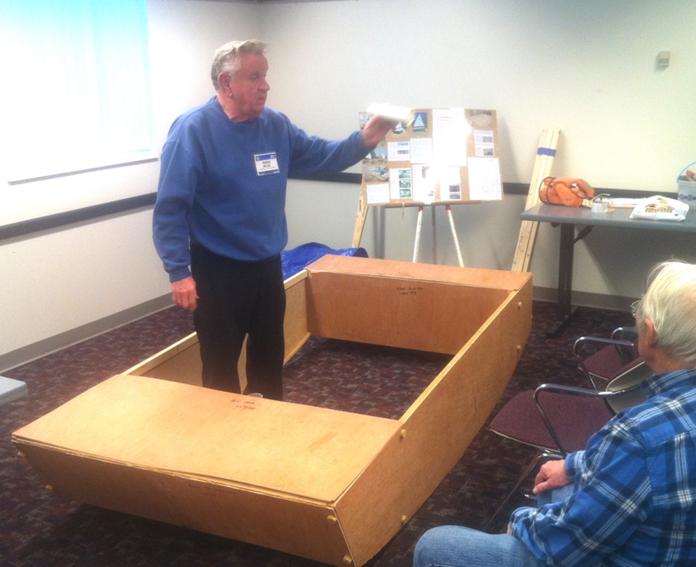 The sailing rig would be a polytarp sail and a PVC pipe mast. George showed how a 1x2 driven down the length of the pipe would strengthen it for sailing use. The Puddle Duck has a large following in the Pittsburgh area where CABBS member, John Bridges, has promoted it and demonstrated its construction at Home Depot stores in the area., The boat can be an excellent first boat for a child and a parent or grandparent to build. It weighs 65 lbs. and can be transported on a car roof. Not only is it easy and quick to make, it is a stable, safe sailing trainer that adults say actually sails well.

Ed Neal