Making The Fins At 2:30am
By Tyson #726 "Jemima" (9ar)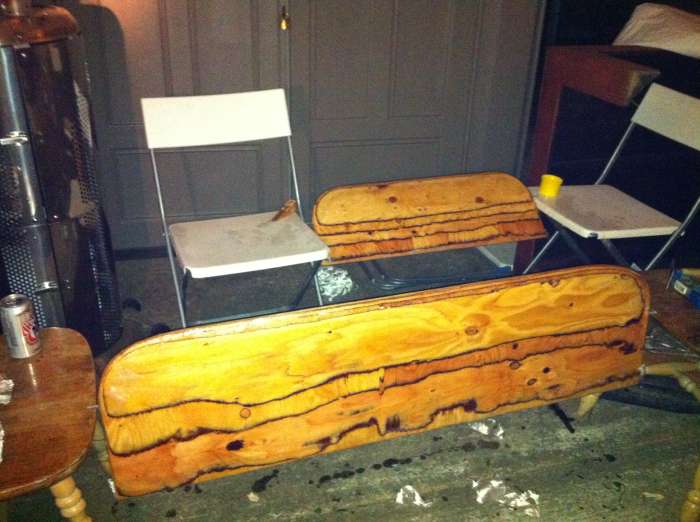 It is 2:30 am Saturday morning and I am writing from my phone. Thursday night I was up until 4 am learning the backstitch and sewing corner reinforcements into my poly tarp sail. Now I understand why sewing machines were invented. Friday I had to take the day off to watch Emma, which worked out splendidly because she was a dream and let me work on the boat all day. I was able to install the deck plates, put in he rest of the expanding foam, make and install to the transom the rudder attachment and turn THESE big ugly heavy foil blanks into THESE beautiful wings. They have a NACA-esque wing-looking profile (at least conforming to my mental mage of what that looks like) very hard to document with my camera.
They began their life as a single half-sheet of 15/32 exterior ply (5 layer), which I cut to rough shape doubled, and then laminated together with epoxy and screws. I had been pondering how I was going to shape the foils. They were massive dense blocks of wood! The tools I have that I use regularly which I thought could be useful we're my vircular saws (one crappy big cheap plug in and a little cordless), my cordless sawzall, and my cordless angle grinder (clearly I do a great deal of finish carpentry).
I drew on the radius curves by tracing the bottom of a 5 gallon bucket, then used the plug in circular saw to rough cut those outside cuts. Then I grabbed my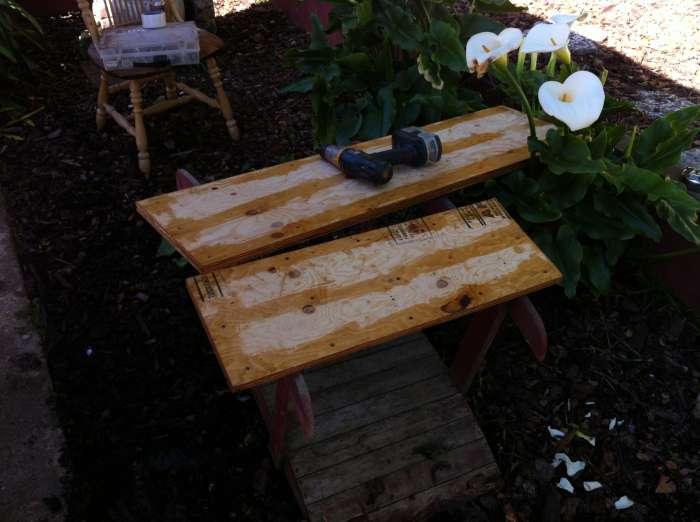 [next day]
I grabbed my sawzall and began hacking away at the front edge of that giant 4 foot lee board. There had to be a better way to do this...Suddenly I recalled that I had borrowed my Dad's electric planer, a tool I'd acquired too late to help with the hull; a toolI had never actually used before. I fired it up, and suddenly I was standing in the eye of a frantic buzzing whirlwind of sawdust and suburban noise pollution and carving through those monster blanks like giant blocks of cheese. The laminated layers turned out to be really useful for roughing in the shape, because I could plane one area down to the proper shape and then match the rest to the rough laminate pattern.
What an amazing tool! I hadn't intended to do a really sincere shaping job with my caveman approach, but with this planer it felt like a sin not to give my best effort to giving these a real wing profile. Not that I really knew what that was, but in my mind I saw that egg-shaped front and that long tapered back, ending abruptly in a very slim flat edge. I'll say again what a great reference those ten laminated layers proved to be. In what seemed like no time at all I was standing there covered in saw dust head to toe with two rough foils. I grabbed the belt sander (also a borrowed tool, but one with which I'm much more familiar) and started whipping away. Very quickly I could see that, smoothed out, the laminate layers gave the foils a captivating depth and character.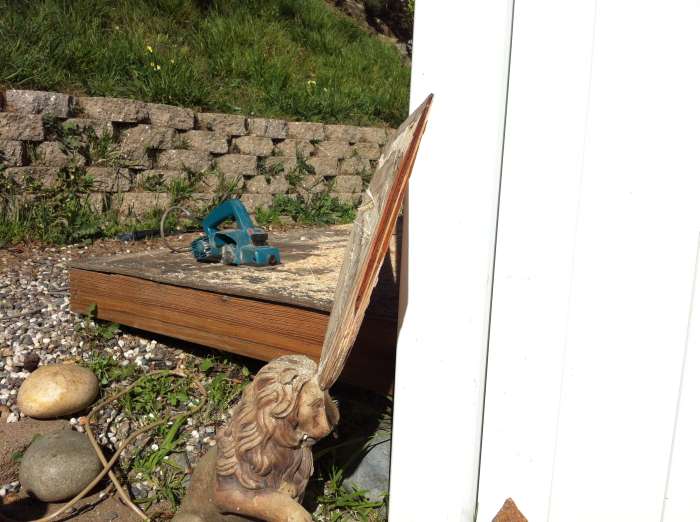 So there I was with these lovely, light wings, which looked and felt like sculpture, and bore no resemblance to the horrible ugly industrial blocks they had been just an hour before. It was the most magical transformation of this whole process so far - thrilling.
Now what was I going to do with them. I'd been planning on just slapping a coat of paint on them and calling it a day. But now the character of the wood and the delicacy of that aft blade edge called for epoxy, preferably even glass on the back and front edges.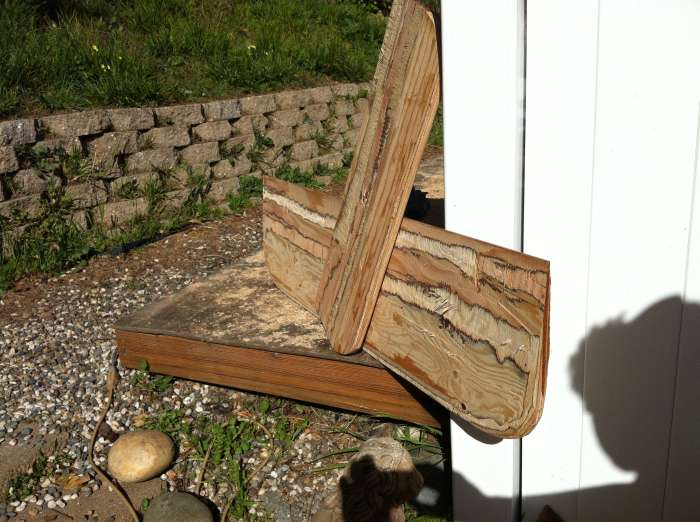 I took a break to take Emma to visit my wife and our friend, who was just coming out of surgery, at the hospital. Then to the home depot to swap out the propane tank for my freestanding outdoor heater, then back home to glass the foils.
I was in bed, exhausted, by ten o'clock. At 2:30 Emma woke me up asking for warm milk, but by the time I brought it back she was asleep. I think she was dreaming. So I took the opportunity to write this update. It's 4:00 now, I think I'll slip out and fire up the heater again for the sake of the epoxy, and begin to plan my next move.

Still to do
make coffee
Make attachment for pivoting lee board
make rudder housing/attachment
mount oar locks
make oar
install sail grommets and attach to mast
make tiller with rigging assembly
make device to use wheelbarrow wheel inserted in mast step far transportation assistance?
GO SAILING