The Sweep Oar
By Jim Allen

#728 "KLUSTER DUCK" (3ar)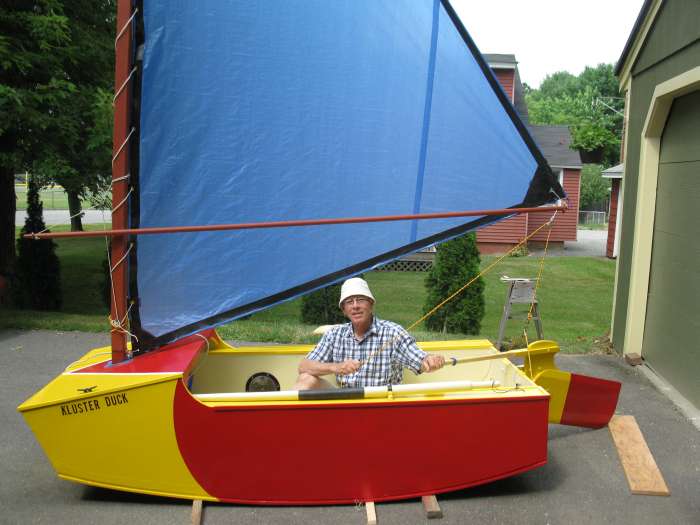 For the PDR builder whose primary use is for sailing only, the lonely sweep oar is the most efficient (non motorized) form of auxiliary propulsion and emergency steering .Consider the following:
Cost: One oar one ore lock ,an 8 ft. oar is perfect length easily secured and will lay flat on gunnel top out of the way and easily accessible. A longer oar can be found cheap at yard/garage sales and be cut down to 8 ft. length.
Sculling: Easily learned,will get you into and out of dock/landing area with or without wind.Becalmed? scull to the next catís paw or shore.In irons or tacking in difficult wind conditions?use the long lever advantage to very quickly come about to the proper tack rather than the slow back and fill via the rudder.I keep mine rigged with blade out of water when these conditions are prevalent.
Emergency Steering:Lost or damaged rudder?the sweep oar in part is a long levered rudder with the advantage of much quicker turning response than the regular rudder.
Other uses: Ridge pole for cockpit tent canopy,pry lever for getting off mud bank/sandbar,cross bar bottom protector when hauling out on the hard and on a lighter note lash on a small knife(which any sailor worth his salt will have on his person )to the handle for a fish fry or to repel boarding pirates.
My sweep set up can be seen on Kluster Duck #728 Article.

Fair winds to all,
J.Allen