Battle For Independence
By Eric Comstock

#759 (11es 13eo 12ea 12ad 53ar)

Hello Shorty,
Today when we arrived at Independence Park we discovered that it had already been invaded by a foreign fleet!
It turns out that a Kayak shop was having its semiannual "Free Ride" event. They bring out every kind of kayak imaginable and let anyone try them out. At first they seemed very surprised that anyone else would want to use the lake. They were not happy about it, but before long I had convinced them that it would be best for them to move their trucks out of the boat ramp and let us through.
As we rigged our boats a couple of the sales guys from the kayak store came by and took a look. They didn't really ask any questions or talk to us. Later, while setting up, I heard them making comments to each other like "Home made, Ha Ha Ha", "A TARP for a sail! Ha Ha Ha", "Held on with ZIP TIES! Ha Ha Ha". But we had the last laugh.
Soon the people who were there for the "free rides" started stopping by and asking LOTS of questions. Roy and I each spent a long time talking to different groups who were VERY interested, especially after seeing the 5 digit prices of some of the kayaks! We referred them to PDRacer.com and I expect many of them have already visited. After so many of "their" customers came over and spent so much time looking at and asking questions about our Puddle Duck Racers, we didn't hear any more from the kayak sales guys. Ha Ha Ha!
Then we got to sailing! We sailed up and down the deep part of the lake, right in front of the beached kayaks. Zooming back and forth in the gusty breeze, weaving back and forth through the confused kayakers. After a little sortie involving a kayak getting hit broad side and it's crew almost going overboard, most were pretty good about staying out of our way.
The wind was blowing about 15, but was a little gusty due to the high banks that surround the lake. There was almost always enough wind to maintain steerage and often enough get our Ducks really moving. The other fleet was no match for us! We sailed around for a couple of hours and then the kayakers packed up and left us with the lake to our selves.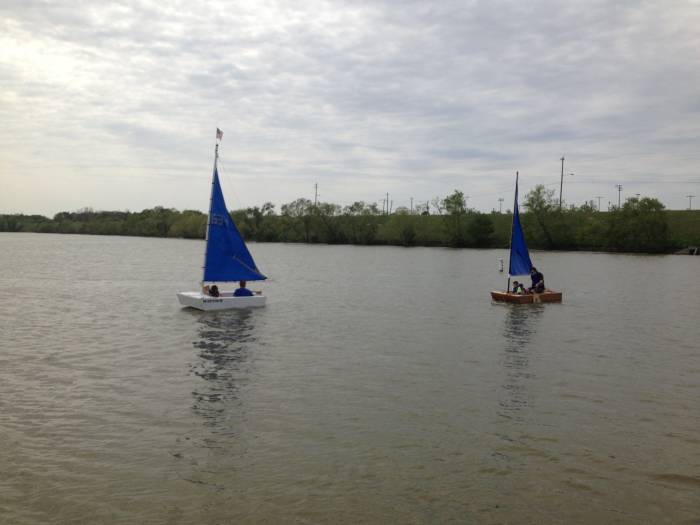 Roy was trying out some modifications to his sail and showing off his hull number which he had placed on it.
I also finally got someone to take a picture of #759 under sail. I was trying out a board placed across the air boxes as a seat. It worked OK, but I would prefer something a little lower. I also want to do something different with the tiller, it just takes up too much space in the cockpit, so I end up sitting too far forward. I may try a shorter tiller or a perimeter steering line.
Despite the "incident" with a kayak (or maybe because of?) and some trouble with shallow water on the far end of the lake, we all had a great time. I expect I'll be out there again Sunday morning.
The number of conversations with people who had shown up for a free kayak ride really caught me by surprise. They were VERY interested in how inexpensive it could be to get out and start having fun on the water in a PDR compared to buying a kayak. I think we will have to make a regular thing of showing up at Independence Park on "Kayak" day! Next time with an EZ-up and banner of our own! :)

Eric
Naval Campaign Planner
Houston Space Duck Viking Marauder Horde Fleet