Houston Space Duck Viking Marauder Horde Fleet's first raid on Buffalo Run Park
By Eric Comstock

#759 (11es 13eo 12ea 12ad 53ar)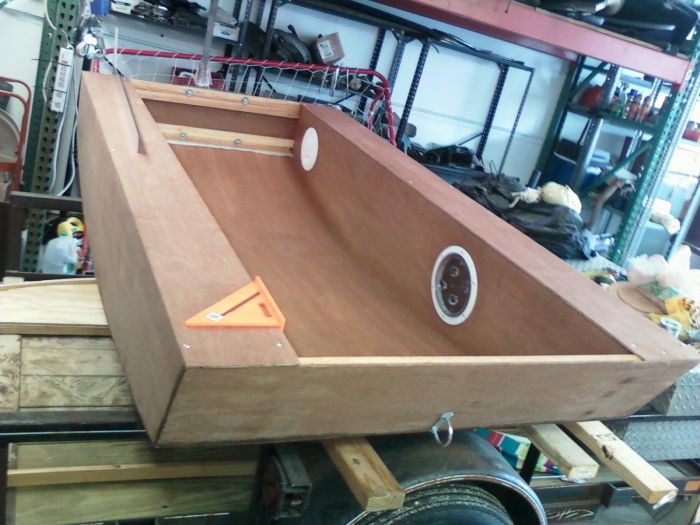 Hello Shorty,
Yesterday our "Horde" descended on Buffalo Run Park and it was a great success. We brought our boats, our families and our friends and everyone had loads of fun.
It was a marathon of a day for me. I got up early to go out to my shop and get started on my boat. I had "painted" it, inside and out, with Thompson's water seal two days before so I had removed the bow U-Bolt and rudder gudgeons. I started by re-installing those with lots of silicone in the bolt holes. Then I still needed to drill holes and mount the deck plates. I used #8 machine screws and more silicone for that job. Finally I got started on the air box decks. I had said that I would be at the lake around Noon and it was now 11:26.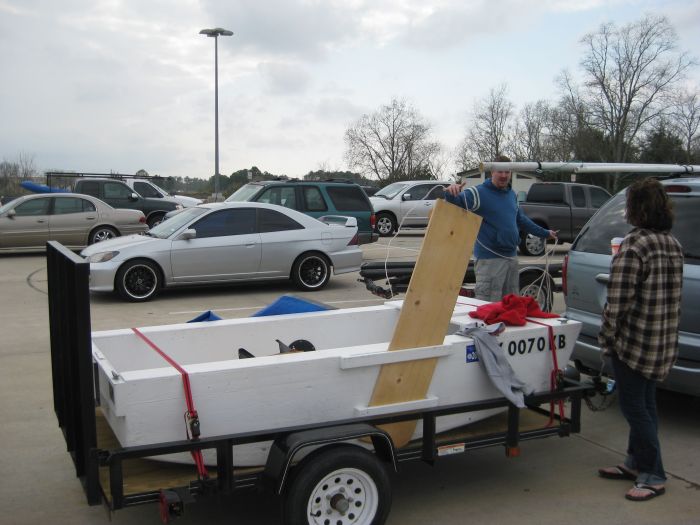 I still wanted to rig a mount to try and use a rudder off of a JetWind 14 that I have. So I spent another 30 minutes figuring that out and finally was ready to put the boat on the trailer at about 12:15. I got it loaded up and arrived at Buffalo Run just before 1:00PM. Bunky had arrived earlier and Roy #634 "Puddle Jumper" was setting up his boat.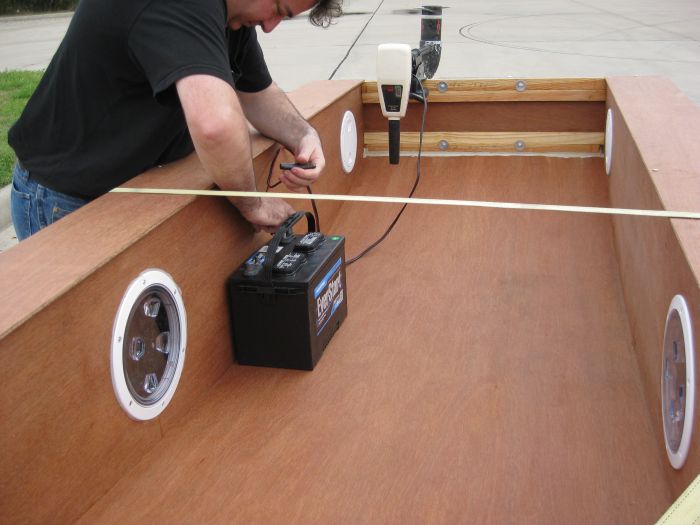 It was a partly cloudy day with an infrequent drop or two of rain and a pretty steady 10 MPH wind. It really was a nice day to be on the water.
My boat is still not complete, so I had to rely on an alternative source of propulsion.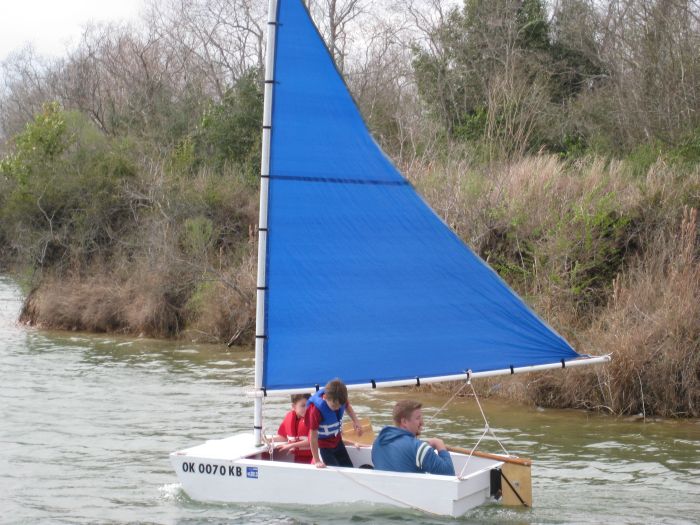 Before long we had both boats in the water and Roy and crew were sailing away.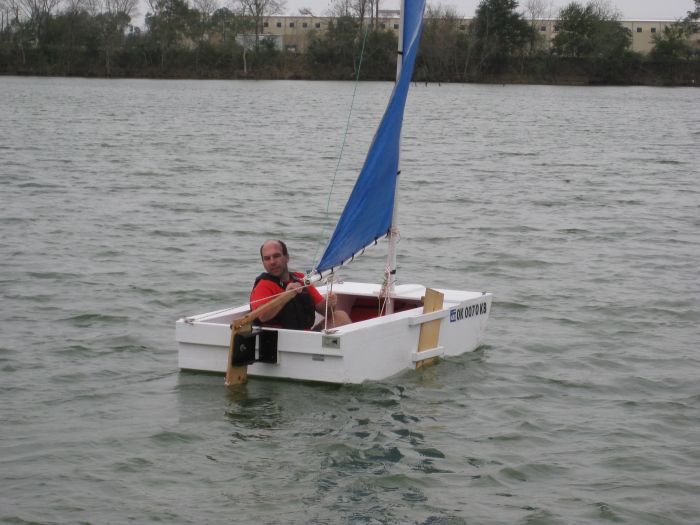 I soon discovered that my attempt at a rudder was a miserable failure. While it made an effective brake, it had no directional control. I removed it and just used the trolling motor to steer for the rest of the day.
We received lots of questions from people at the park. Asking if we had really made the boats ourselves, how long did it take, where did we get the idea, etc. We were also joined by couple of other PDR enthusiasts who do not have boats of their own, yet. One is currently under construction, the other I suspect will start soon.
Roy was gracious enough to let everyone take turns sailing his boat. That was my first time to "sail" a Puddle Duck and I was VERY impressed. His boat was extremely well balanced, made very good progress to windward, was very stable and REALLY easy to sail. I have sailed both a Walker Bay 10 and a Montgomery 8 on this lake before and Roy's PDR would have out sailed either of those.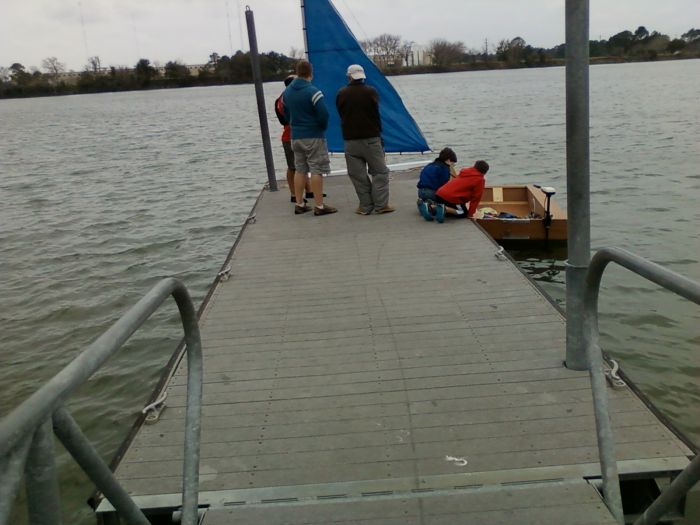 One of our group, "Bunky", was so impressed after sailing Roy's boat that he left early to go get back to work on HIS Puddle Duck. With any luck his Puddle Duck will be featured in the report about next months sail. BTW, thank you Bunky, for your pictures included in this article.
There were lots of conversations about various sailing topics on the dock while we waited our turn to take out Roy's boat. So even the wait was enjoyable.
My son got to drive our PDR (still unnamed, but we will have one soon) all over the lake. He really enjoyed being the "captain". He also convinced the other kids to join the "Space Duck Viking Marauder Horde". They each received a gold coin as a signing bonus and a taste of things to come.
We even had a race across the lake. I got a head start leaving Buoy #1, but Roy had almost caught me by the time we got to buoy #2. His sail and my motor were pretty evenly matched.
So to sum it up. Everyone had lots of fun, the kids, the grownups, even the grandparents. I couldn't have asked for a better day. Everyone left talking abut how eager they are to do this again. Those of you who are in, near or just passing through Houston. Mark the second Saturday of the month on your calendars, because that is when you will find us at Buffalo Run Park, out having fun on the water!

Eric