Free Bird Finds A New Home
By Eric Comstock

#759 (11es 13eo 12ea 12ad 53ar)
I arrived at Magnolia Beach Thursday night, with 759 and "Free Bird" stacked on a trailer. It was late in the afternoon, hot and I was tired, so I didn't bother unpacking anything that evening. It turned out that was for the best as a lightning storm blew through about 2:30AM with 50 MPH winds and hundreds of near by lightning strikes.
Friday morning I started setting up for Worlds. This included unloading and rigging "Free Bird." She had been in the water two weeks before for a float test, but today would be her first time to sail. Although originally rigged for a Marconi style mainsail, I had made a LOM from some left over tarp that just happened to be almost the perfect shape.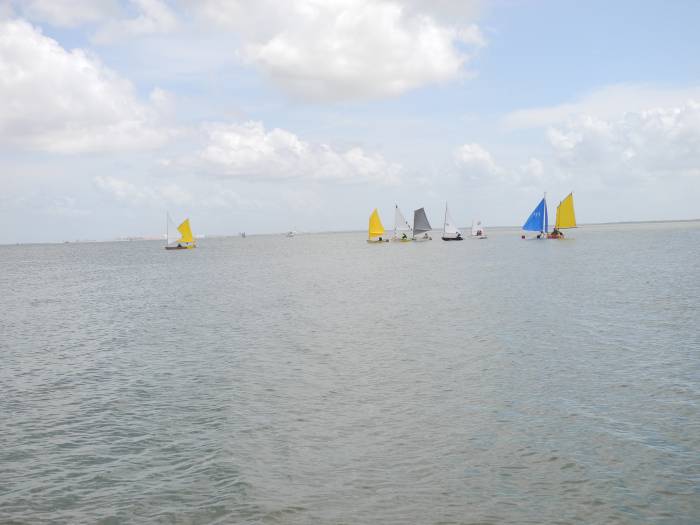 By late afternoon others had started to arrive and I was busy setting up for Worlds, so I let David W. take "Free Bird" for her maiden voyage. She seemed to handle very well. Later that day Malcolm also took her out. He had a little trouble adjusting to "Free Birds" low mass (<70 lbs). She does not carry much momentum when tacking. After a while Malcolm seemed to be having trouble with the rigging. When he returned, we discovered that the grommet at the back of the boom had pulled out.
This is one thing that I do not like about LOM's. Their loose foot puts a LOT of stress on that one grommet. With a Marconi style mainsail/boom the stresses are spread along the entire boom.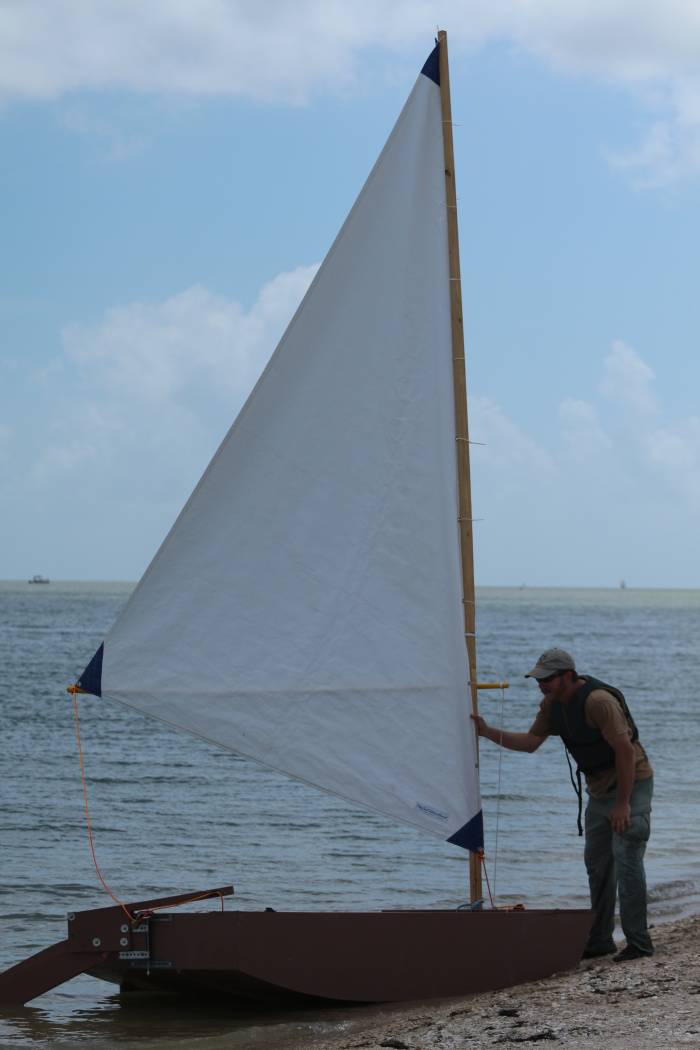 I was about to attempt repairs to the sail when "PolySail" Dave stepped up and offered the use of one of his LOM's. I gratefully accepted. The boom was too short, so we pressed a piece of bamboo into service. About then, I asked David W. if he would like to sail "Free Bird" in the race and he quickly said "yes."
The next day, everyone started lining up along the shore for the start of the first heat. "Free Bird" was ready and waiting. The course consisted of three buoys. The first was about 100 yards off the beach, almost directly downwind. On the first lap this buoy would be passed on the boats port side, making the only left turn of the entire heat. After that, the competitors would head down the beach to the second buoy, passing it on the starboard side and head for the third and final buoy, which was placed considerably farther out, away from shore and between the other two. After coming around the third buoy, it was upwind back to the first. Each heat consisted of two laps.
The single left turn at the start of each race made sure that all competitors were heading basically down wind to the first buoy and assured that location along the beach had little effect. All beach starts were clean and safe with no collisions or other incidents reported. There was remarkably little chaos.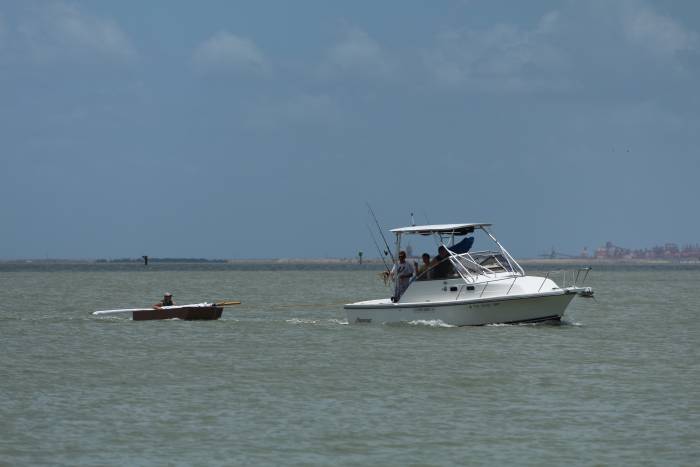 "Free Bird" got off to a good start and was ahead of the pack as she rounded the first buoy.
Everything still looked good at the second buoy, but before long it was apparent that all was not well. "Free Bird" was floundering. The rescue boat was sent out to retrieve her. Once on shore we all examined her broken boom.
This might have been the end of the day for "Free Bird" as the next heat was scheduled to start just a few minutes after she made it back to shore. But the start was delayed by one of the TX200 boats setting off across the bay at full sail, down wind, without anyone aboard. The recovery efforts delayed the start of the second heat by 1/2 hour. Thanks to Patrick's quick action, sailing after the wayward bird and stopping her in her tracks, a crew could be sent out to recover her. During that time a new "composite" boom was created for "Free Bird" by lashing a broken piece of bamboo to the end of "Free Bird's" original boom.
With the "composite" boom in place "Free Bird" competed in and finished the second heat without any further issues. As far as I'm concerned, considering that she was wearing a borrowed sail and a makeshift boom, any finish is a good finish.
After the race was over everyone got a good look at "Free Bird" and free "raffle" tickets were handed out to anyone who wanted one.
Sunday morning the drawing was held and "Free Bird's" new owner happily accepted her. The drawing wasn't much of a surprise, as one person had invited all of his friends, family and acquaintances out to get tickets in order to increase his chances of winning, which was entirely within the rules and the spirit of the giveaway.
The "Houston Horde's" own David W. is the proud, new owner of "Free Bird." Congratulations David! I'm looking forward to sailing with you and "Free Bird" soon and often.

--
Eric
Houston Spade Duck Viking Marauder Horde Fleet
Chief Naval Architect