Morning sail and afternoon flood
By Eric Comstock

#759 (11es 13eo 12ea 12ad 53ar)

Hello Shorty,
I had an interesting day with water today. It started out with a very nice morning sail and ended up with rain coming down at a reported rate of 15.2"/hour.
First the sail. I had been doing a little work on #759, putting epoxy on the seams and the places where I had plugged screw holes, trying fix an inconsequential but annoying leak. It seems that I succeeded. I had to load the boat back onto the trailer this morning, strap it and the spars down and get everything else loaded back into the boat or the truck. I finally got out to Buffalo Run Park around 10:45.
As I was pulling in I ran into Malcolm, one of the people on our email list. He had brought out his "Bug", a nice little factory built sailing dinghy. Not long afterwards we were both in the water and sailing back and forth across the lake. I got the feeling that his 9' "Bug" was a little faster than my PDR in the light winds.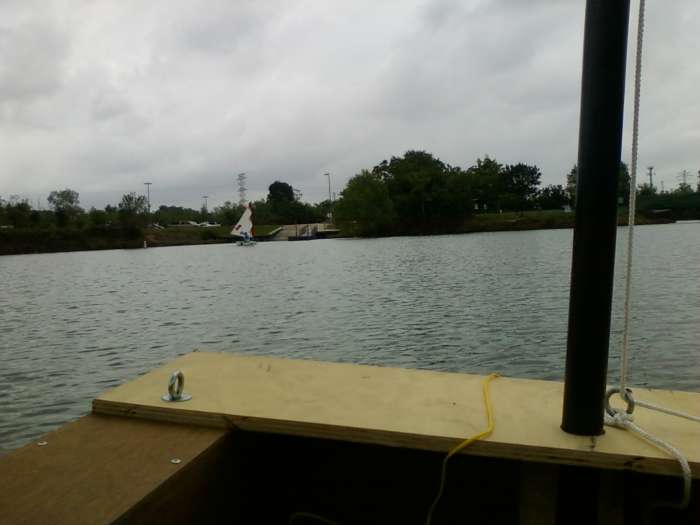 Speaking of wind, there wasn't much. The forecast called for 5 to 15. I would say we had 2 to 5 with an occasional gust of 7. Still, it was enough to keep us moving and have some fun. Around Noon, Malcolm pulled out and headed home.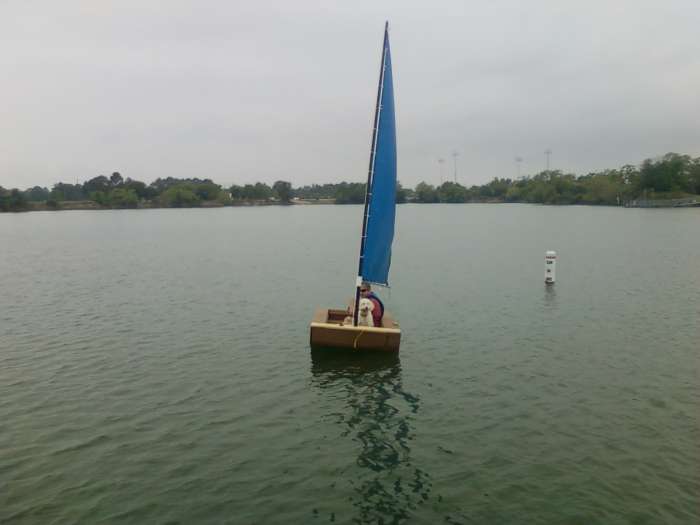 My son and I kept sailing for another hour or so when my brother and his dog showed and took #759 for a sail. It was his first time sailing my PDR. We should have his ready to sail soon...
After 3 hours on the water, it started to rain about 2:00 and we took shelter in a car for a while, then, when it slacked off I loaded up and we headed home. After getting home I had to bail a couple of inches of water our of #759, the most it has ever had.
Over the course of the day we got about 8" of rain and more is predicted for the next 6 days. I'm just glad that I got to go out today before the monsoon started. :)

Eric