Sailing Independence
By Eric Comstock

#759 (11es 13eo 12ea 12ad 53ar)

Hello Shorty,
My son and I just got back from an evening sail. It was a little bit of a "shake down cruise" to see how well a bunch of modifications we have been working on would work. After #759's first sail at Buffalo Run Park last month I decided to remake the mast step/partner and move the mast as far forward as possible. The new rig has the mast step right at the base of the front transom. I also wanted to get the sail higher up on the mast to provide more room under the boom and we made some changes to the shape of the sail as well. I'm very happy with how all of those modifications worked out.
Unfortunately, when we got to Buffalo Run Park, due to road work at the entrance, the park was closed. The construction manager said it would be open again in a few days, but I wanted to test the boat today and make sure it is ready so that I can take it out to Woodlands Lake on Sunday. So we drove a couple of miles down the street to Independence Park. This is another park in Missouri city, not far from Buffalo Run Park . It has a boat ramp, pier and a bigger lake than Buffalo Run (67 acres) but about 80% of it is only 12" deep so it isn't a great place to go sailing. But, I've been on it enough to know where the deep parts are and I didn't have any other options so it had to do.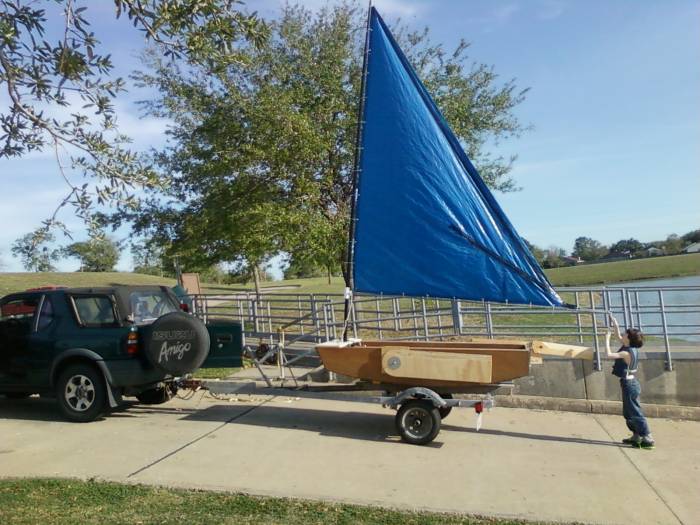 Before long we were at the park and had the boat rigged and ready to sail.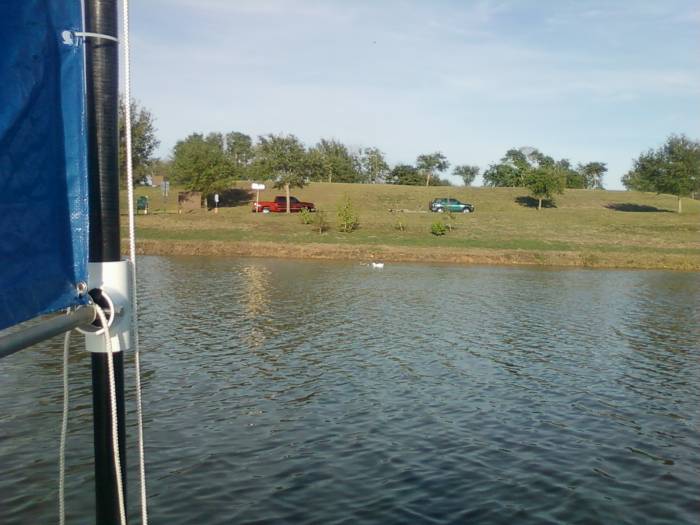 Since #759 had a pretty bad weather helm last time out (before moving the mast forward) and knowing the shallow nature of the lake, I decided to only put the lee board down about 30%, which resulted in a slight lee helm, especially when going very slow after tacking. The winds were light and variable. We spent the next hour and a half sailing up and down the lake chasing the ducks around. We never did catch any.
After the high winds we had at Buffalo Run last month and how well the boat behaved, I was happy (but not surprised) to see that it would sail around well on lightest bit of wind. This is only the second time I've sailed #759 and I already like it a LOT more than any other small boat I have ever sailed.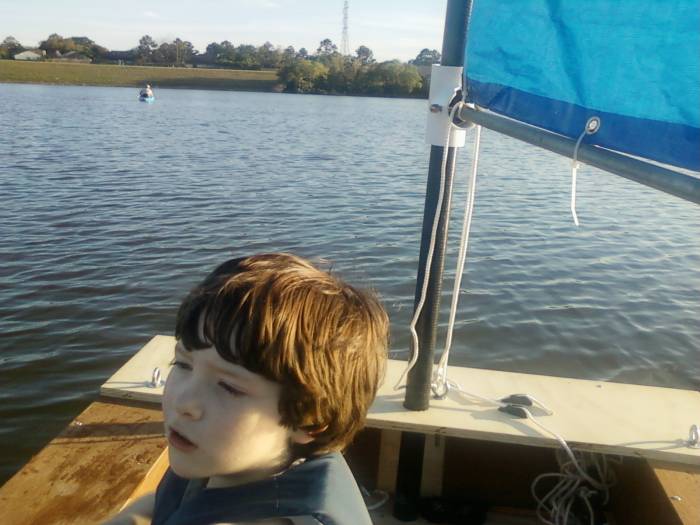 There were a few kayaks on the lake but no one else ever sails there. Just like very other time we've taken the boat out, several people commented on how much they liked the boat, asked if we really made it ourselves and if it was much work. I directed them all to PDRacer.com and invited them to come out to Buffalo Run next week for the HSDVMHF's race.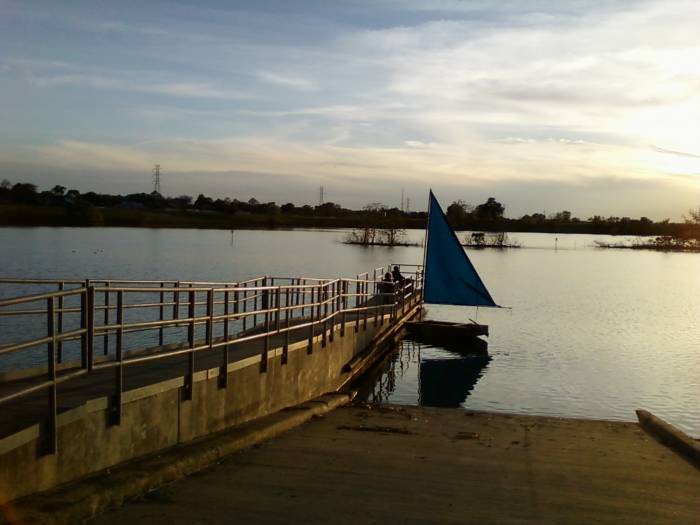 Unfortunately the sun started to go down, so we had to call it day and go home.
It is going to be tough to wait two whole days, until Sunday at Woodlands Lake, before going out again. I'll let you know if we catch any sea monsters while we are there. :)

Eric #759