Front and Back View
By Helen Opie #904 "Molly Kool" (1es 1eo 1ea 31ar)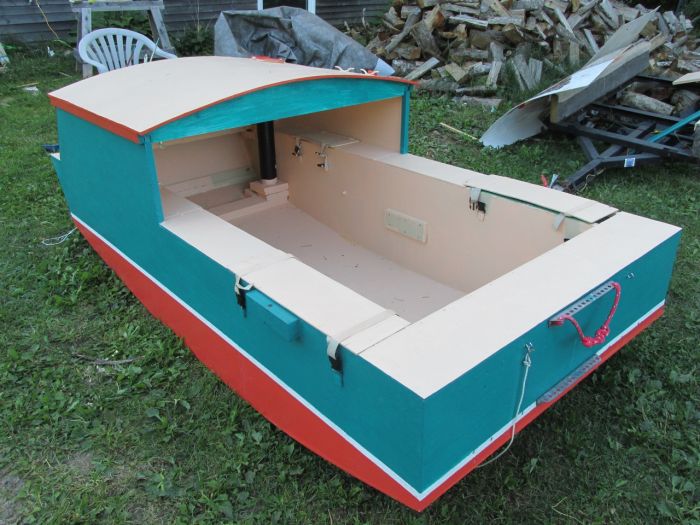 Had hoped to put her in and sail today but it was fiercely windy and I wasn't up to making an initial sail with a double reef; want to know how she handles under full sail first. Saw another boat out there and while she looked like they were going super-fast, it also looked like a wind I'd not want to encounter on a maiden sail.
Rebekah had come over so after exchanging eclipse observations (why I was so tired today), we went out to do a little more painting. The rudder top and tiller are painted all over, the leeboard handle is painted, and the trim around the edges of the cuddy roof are painted. Would like a second coat on the cockpit floor and think I'll make it that same red-orange as the sides and roof edges. I had fun doing it, and will do some more little things tomorrow if this wind doesn't abate. Temperature T-shirt warm again today, and tomorrow is also supposed to be nice, with southerly winds. Then 2 days of rain, then shift to northerlies and clearing, but cooler. Not yet too cool to sail, though!
What interests me is how green the still-unpainted parts are: they looked buff when they were alone, but with the pink, the grey looks greenish. This is an excellent example of simultaneous contrast in colour theory. It was getting dark and I was cramped trying to paint the whole inside without lying or kneeling on any paint, so those bits got left...tomorrow, maybe - but not if the wind is down and I can go sailing!
Not sure if I'll paint portholes on the sides, but think I will; liked them on that other guy's cuddy. Was going to cut windows across the front and back them with plastic, but I think I'll just paint them there, too. Might paint someone looking out the side, with binoculars. Also wondering if sanding would make it possible to paint the black pipe and have it stick. So that's the news from Granville Ferry.