2006 World PDRacer Sailboat Championship Race - Directions
By Doug Day (retired) #1 "DUB"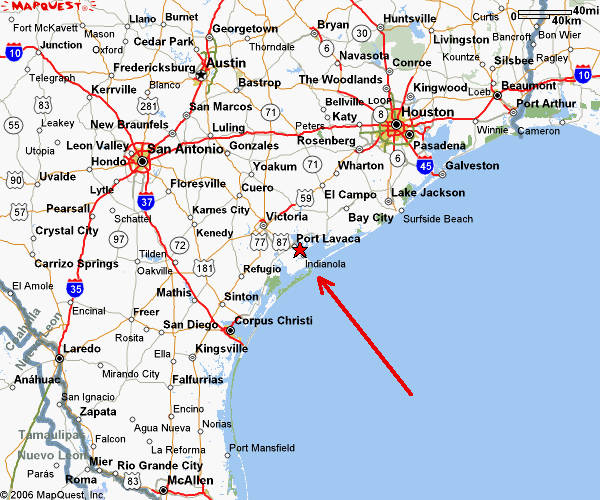 Directions

Here are the directions I use to get there from Houston. I go thru Palacios because I like to eat at the Mexican restaurant there. There is another route that bypasses Palacios, and it saves about 10 miles. It is a bit tricky getting thru Port Lavaca, so you will want to have a map of the area or print the directions from mapquest.com.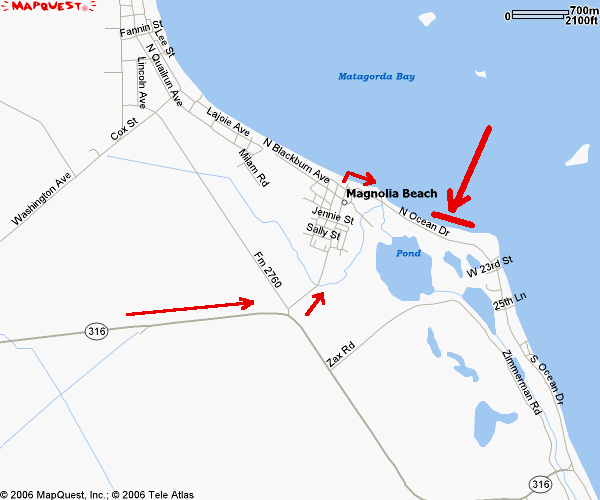 -- DIRECTIONS HOBBY AIRPORT TO TX-59 -- (18 miles)

N on Broadway, go 2 miles
L (north) on I-45 (exit 38B), go 2 miles
L (west) on loop 610 (exit 32A), go 14 miles
L (west) on 59 (exit 7)
-- DIRECTIONS TO PALACIOS -- (138 miles )

from 59 & 610, go SW for 63.8 miles
L (south) onto TX-71 go 21 miles
slight Right onto TX-35 W. go 12 miles
road curves right, continue for 2 blocks
Stop at Palacios Mexican Restaurant & have lunch
Main & 5th 361-972-2766 m-f 11-10 sat 1-10 sun 11-9
--- PALACIOS TO MAGNOLIA / INDIANOLA BEACH, MATAGORDA TX --- (40 miles)

continue W on 35, go 30 miles, Cross railroad tracks
sharp left on 87, go .1 miles
sharp right on ALCOA DR/FM 1090, go 0.8 miles
R on TX-238/W AUSTIN ST, go 3.2 miles
TX-238 becomes TX-316, go 5.5 miles
L on FM 2760, go 1 mile R on Ocean Drive
follow for 1 mile along the water, look for goofy blue structures
Destination is: N28-33.580 W096-32.203 ( 28.55966 North 96.53672 West )
Out of State Travelers
I live in Arizona, so I'll be flying into Houston on Friday and then renting a car to drive out to Magnolia Beach. It is actually a pretty cheap way to go, only $190 round trip tickets on Southwest Airlines, and $16 per day for the rental car. Greyhound has a stop in Port Lavaca, it looks to be about 19 miles by driving to Magnolia Beach. Amtrak does not seem to have any close stations. You could take either to a close by city and rent a car from there.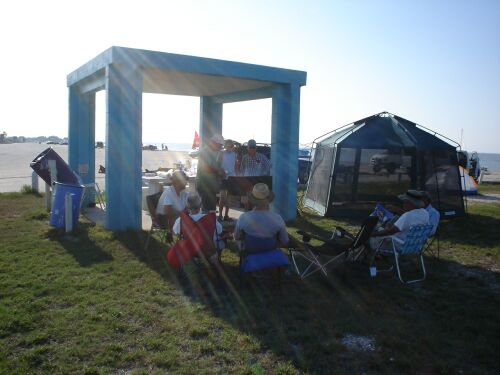 Wierd Blue Pavilions
When you go thru the town of Magnolia Beach, then turn and drive South along the water's edge, you will come to a string of these blue pavilions. There are no reservations, just first come, first to squat gets it - so if you want to setup your camp at one of the pavilions, you might try to get one close by. And from what I understand, there are no reservations or permits required to camp there overnight, or use the area.
Be warned -- there is a second group of blue pavilions further south, we don't want you to get confused and be waiting down there while we are all up at the other group. We are at the northern group, on the northern end.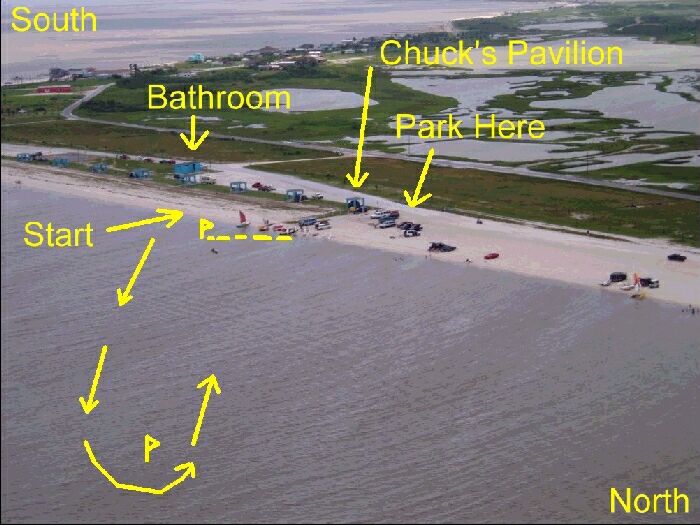 Aerial View
Here is a view of the beach area.
You can back your trailer right down to the water and launch it (or with helping hands, usually lots of those around). If you bring a boat that needs a ramp for launching, about 1/2 mile North on the road is a free launch ramp.
Special thaks to Bob Zieganhals for taking this photo !!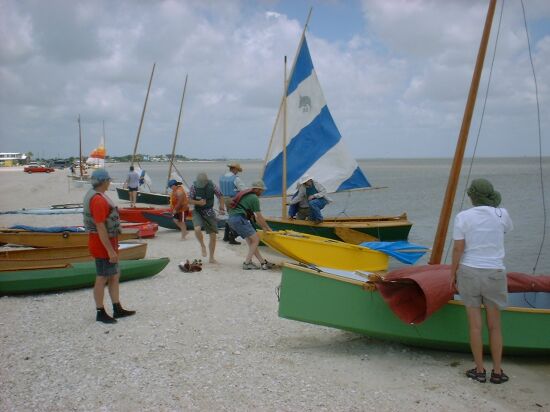 Messing About

This is also a messabout - which means that we check out each others boats, talk about all sorts of boat stuff and go for short rides in them. If you see a boat that interests you, find the owner and ask for a ride. Most people that have more than one boat, bring everything they can, such as one on the roof top, trailer another, and one or two in the cockpit of the trailer boat.
Other Messabout Activities
Some of the other things we do is hold boats just off the beach, and pull them over on their side to see what would happen to them in a knock down. Cecil Carnes always brings new and iteresting floating things, such as a cartop carrier that he converted into a kayak. We do other stuff too, look at the previos years pages for inspiration.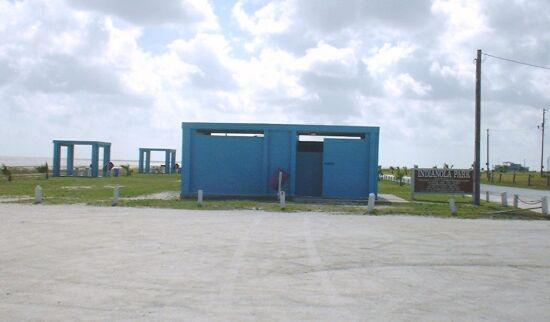 Bathroom
The big blue building is the bathroom, they have a couple of urinals and toilets which are usually in pretty disgusting shape, the sinks don't have running water, and there are no showers.
Back to main page