2006 World PDRacer Sailboat Championship Race - Friday
By Doug Day (retired) #1 "DUB"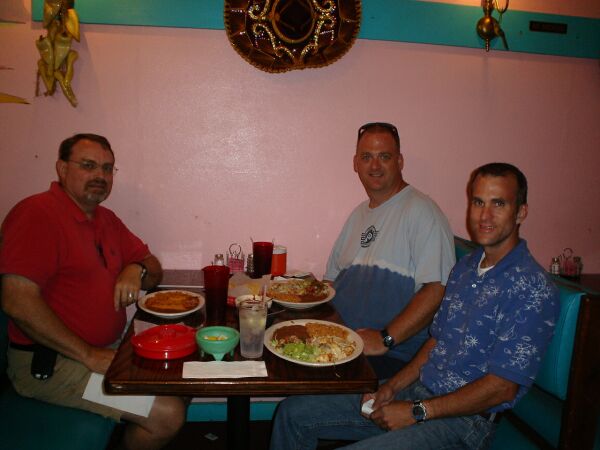 I flew into Houston, Tim Webber picked me up at the airport and we made straight for the Palacios Mexican Restaurant, made it there just a few minutes ahead of Dave Sargent. We ordered, I ofcourse requested Camarons A La Parailla (a broiled shrimp dish) and guess what? They changed - now, instead of that nice round plate, they have a bigger oval shaped plate! There was SO MUCH SHRIMP that I just barely stuffed it down, and this is after a long day with only a measly breakfast bar eaten about 10 hours ago. WHOO HOO !!
We finished our meals and continued the trek to Magnolia. We got to the beach and met with all the gang that was there.
Phil Keck had been sailing back and forth trying to break the current speed record of 6.1 mph. He was able to get to it, but couldn't get above it. Phil talks more about it below.
I chatted with others about various stuff, we all were wondering where the raiders were (Noel, Gerard, Louis) - they were on a 150 mile voyage. Then the mosquitos came out, so I retreated to the Eagle's nest for a great night's sleep in the mosquito free air conditioning. Last year I went on a raid and had a horrible night's sleep, all day Saturday I felt like a zombie, then spent all year kicking myself for ruining my favorite boating event of the year!
---
From Phil Keck:

I showed up Friday and found Andrew, Bill, Bill's boat, and Tim C.'s boat (without Tim). I think Tim had already broken a forestay and run off to get supplies. The wind was steady, but not too much to handle. Bill was gracious enough to let Andrew and I rotate in and out on his boat for the rest of the day, and in doing so, both Andrew and I tied the speed record of 6.1 mph. During one of those runs, I put a crack in Bill's rudder (remember this part, it comes back later) while I was a couple hundred feet from shore. I was cookin' along, and then there was a cracking noise. It turned out that the blade had crack that ran all the way from the front to back, but it was still all in one piece. We tried to find some replacement lumber, but had no luck.
In return for cracking his rudder, he bought my dinner that night.