2006 World PDRacer Sailboat Championship Race - Dinner
By Doug Day (retired) #1 "DUB"
Afterwords I hitched a ride with Tim in his sea pearl and we sailed around, lots of others were sailing around too. Out in the middle of the water we saw a an air mattress. A family on the shore lost it and it was blowing to the far side of the bay, the husband was in waist deep water waving his hands. This is a regular thing, I have seen many beach balls, floating kid toys and air mattresses heading in that direction, but this was the largest inflatable I had seen yet - it was a double sized air mattress, the type you have grandma sleep on when she comes to visit. (or rather you sleep on it, and grandma gets your bed).
Tim changed course and we headed for the mattress. I plucked it from the water and Gerard helped me keep it on deck. Then Tim headed out to sea, in the opposit direction from the family. The dad's raised arms dropped out of the air and flopped in the water, bewildered that yes indeed, pirates still sail the high seas.
Tim didn't really want to keep the air mattress, he was just getting a little more room to make a turn. We swug around and came flying down the beach, waved the dad back out into the water, and tossed it on top of him while doing about 8 knots. His wife sure seemed happy as she waved to us, and the husband eventually resurfaced...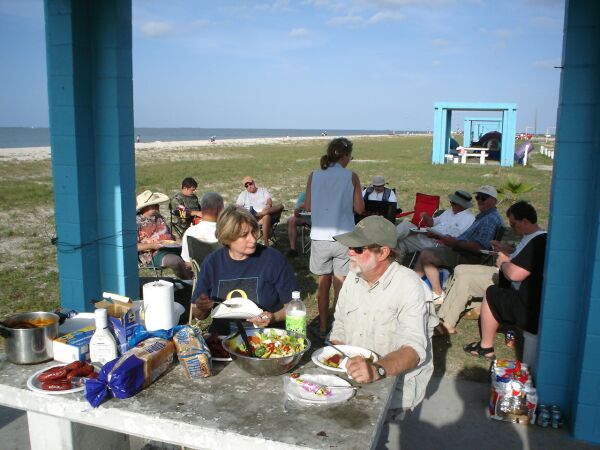 It got dark and the mosquitos came out, so everyone seem to retreat, including Tim and I.
Back to main page