Other Boats At The Conroe Messabout
By Doug Day (retired) #1 "DUB"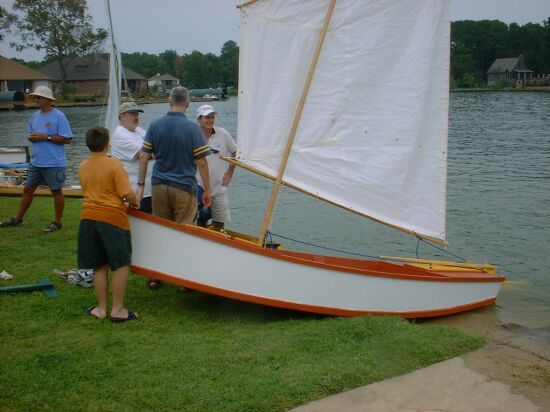 Ron and his son Andrew brought this 14' Mayfly. Ron is from England and unfortunately is going back in December. Very friendly guy, wish we would have had more time to visit.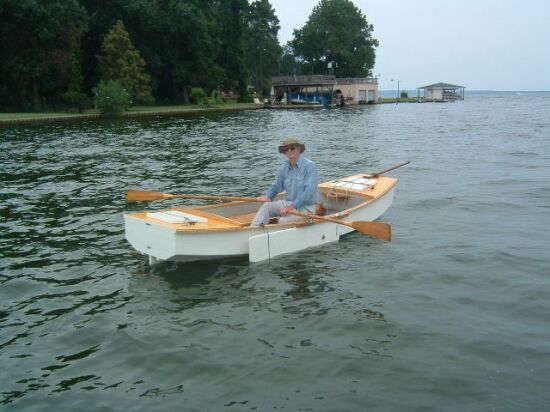 Roger Harlow brought his Piccup Pram. He did some sailing, but is shown here rowing around a bit. Roger is taking this Piccup to the Kokopelli event in a month or so, they are going on a 50 mile / 14 day trip.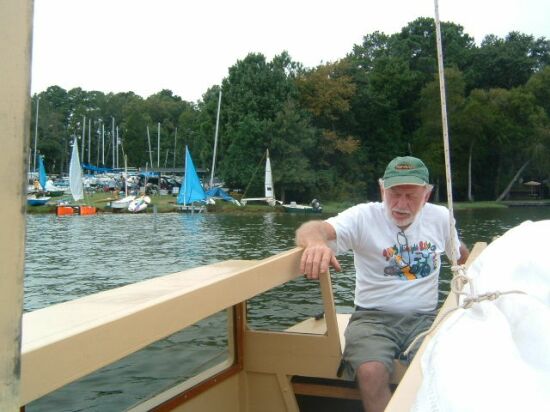 Jerry Scott brought his IMB, this is the first IMB that was ever made. There are a bunch of pictures of it in the previous messabout photo pages.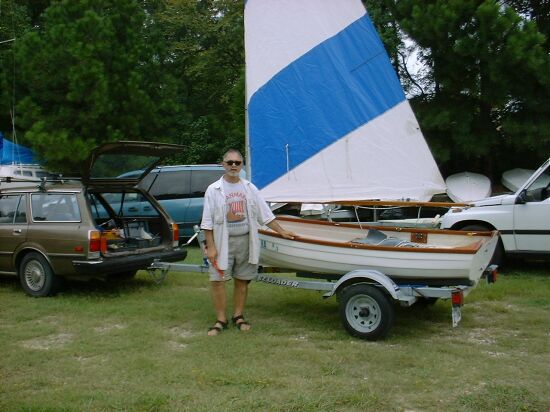 Randy Watkins brought his 10' dinghy. I think he likes this boat more than any other boat he has had.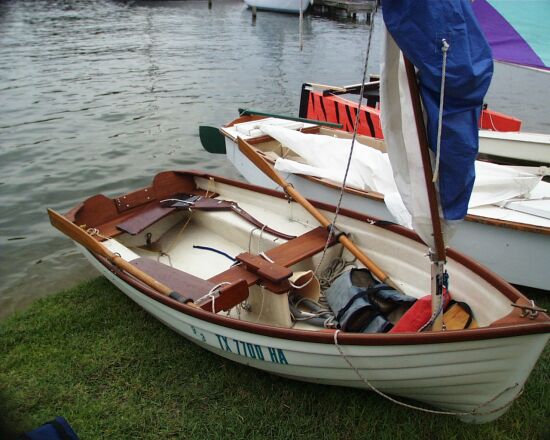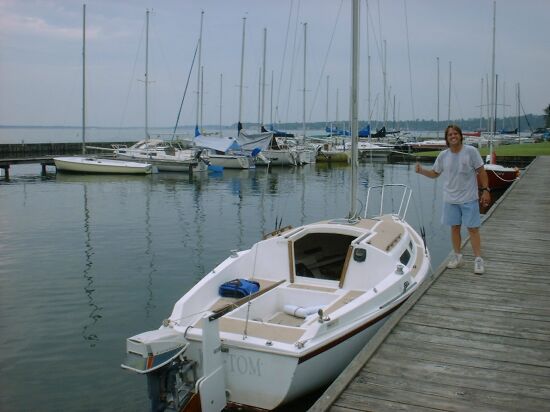 Ed Hempel brought his Windrose 20 - and was kind enough to do rescue service during the $50 race. She sure is a pretty boat !
Here is my buddy Perry and his very unconventional dinghy named "Ducky". Instead of having the daggerboard in the proper spot, he put the trunk way up at the bow like a Chinese junk does. You would ask "why the heck would you do that?" - well, he and I both have a fascination with sailing rediculously small boats to far off places, and then anchoring there for the night, inside the tiny boat. On a 10' hull, that daggerboard trunk is usually right in the middle, destroying any sleeping spot you could possibly have in a boat that small.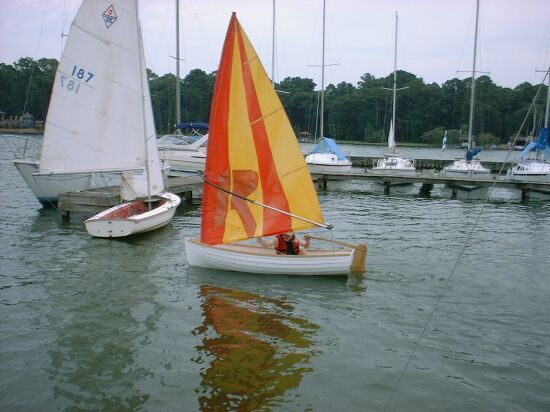 Well guess what? That little dinghy really does sail just fine, and it has good helm balance. On extra side effect is that it is VERY easy to scull. If you sweep the rudder back and forth, you can make about 1.5mph headway !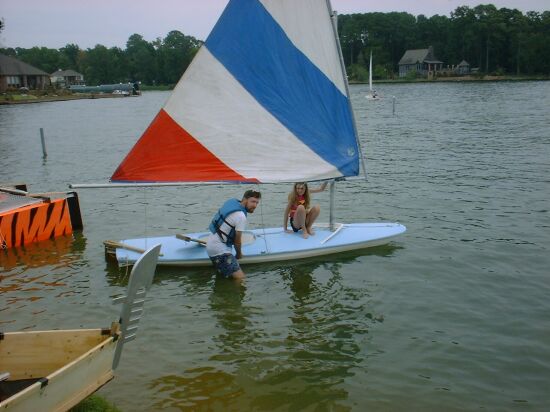 John McKissick brought his daughter's oday board boat named "Leapin Lizzard".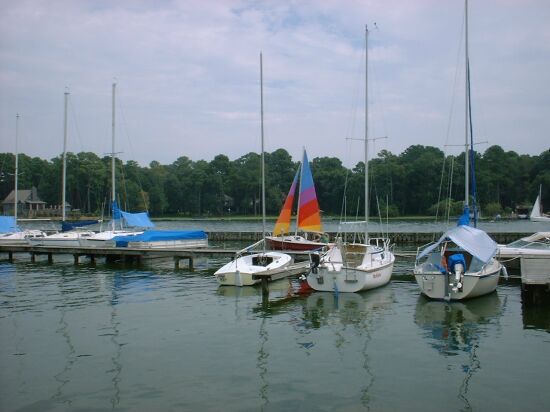 Someone was sailing a Buccaneer 180, not sure if they were with the messabout or just CYC club members, I didn't get to talk to them.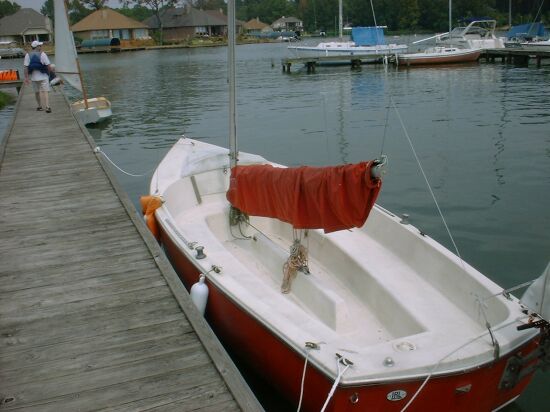 Here is another about that came, and I am not sure if was with us.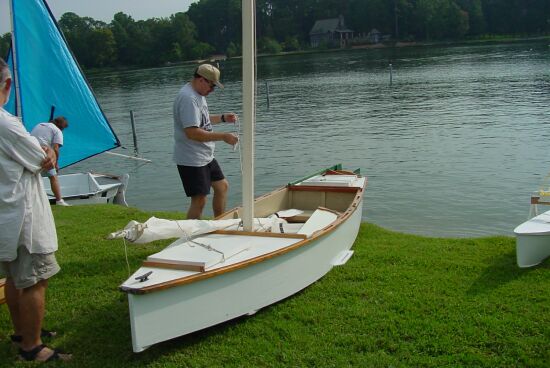 Tim Webber brought a June Bug, this one was originally built by Bob Williams, then given to Roger Harlow, and now given to Tim Webber. He also has one that he built, is working on a double-bug trailer so he can tow around both at the same time.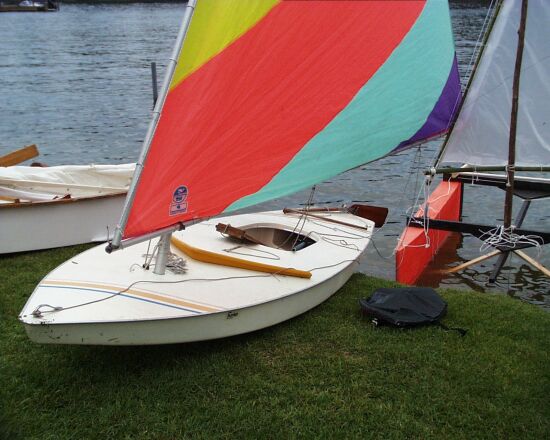 Tim also brought his Sunfish.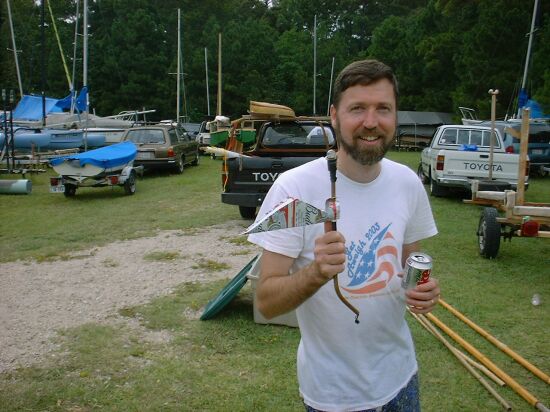 Well would you look at this? John McKissick made a windvane from a BEER CAN! HAHAHAHA !!!!!!
back to main page