Where are all the $50 sailboats now?
By Doug Day (retired) #1 "DUB"
Dill Pickle
Andrew said: My first option is to sell the boat. Since I paid nothing, I only need to be compensated for my hours of design work and manual labor. The second option is to keep it as a work in progress. I do have another bucket to add for more flotation. Although I would have to buy some more duct tape. I could also try to lighten the frame by drilling holes in strategic places. The only flaw with this plan is that I would need to store the boat in my already crowded back yard. That is a big negative. Lastly I could put it on the curb and sacrifice it to the local dump. Bulk trash does not get picked up till next wednesday so I have less than a week to decide. For now its up for sale. anyone interested in a cat racer designed by a future engineer?
Wooderaux
Ken said: My boat, the Jam 8, will be kept and used. My wife says she wants one. The sail will be kept on the back porch for use when it rains.
ACDC
Skip said: ACDC currently sitting on sawhorses under house. I'll glass the keel joint on the hull and continue development of sail rig and steering issues of proa. ACDC's second function was to be a test bed for proa development, after all it only cost 50 bucks. Development will have to wait a bit, water's still warm enough to ski on weekends.
Bed Of Nails
Tim said: The Bed O' Nails is sitting on sawhorses out front of my carport. I intend to chop away all the bits I didn't have time to before the race, then maybe have the whole thing coated with truck bed liner to make it waterproof. Then comes the cabin with flying bridge, the reverse osmosis watermaker, the winged keel and the bow thrusters. Actually, it does make a good testbed, and has already taught me a lot. ( like start a week earlier )
Cat Box
John said: "I was gonna get Shorty to sell my Cat-Box Cat on eBay for me, heheheh"
Thunder Bucket
Bill was just going to scrap "Thunder Bucket", so I twisted Bill's arm to list it on ebay and it sold for $3.58 The new owner is starting a new Sea Scouts troop and was having difficulty getting a boat from the scout program. Her husband decided they should just go ahead and purchase a sailboat for their family, and would use it for the scouts - so she was getting it as a suprise for him "Look honey, you said we should buy a sailboat!". Realistically, she plans to take it to our local community lake and have fun with her kids. If you think about it, a movie costs about $7.50 each, the popcorn costs another $9, and the fun only lasts 1.5 hours with a 50% failure rate. Now the Thunder Bucket could provide hours of fun, both sailing at the lake and as a conversation piece in the neighborhood.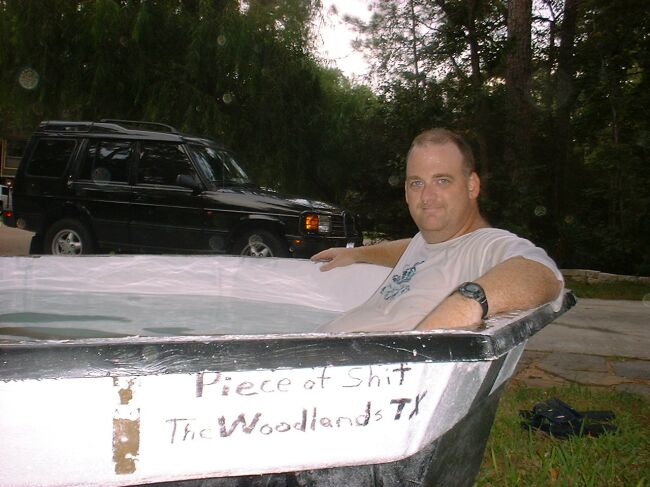 "POS" hot tub
I am converting it into a real hot tub. First thing I did was strip all the parts back off it, then fill with water to see if the plywood patch on the bottom would hold the pressure from the water. The bottom area had a bit of a reverse crown, so there is no support underneath the patch and I was afraid the water pressure would be too much. After testing it, works just fine - there is a little bit of flex but should be OK.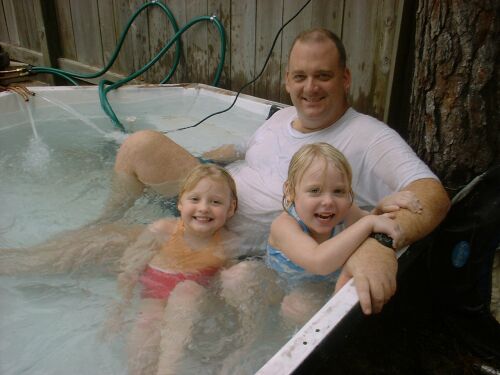 I made a wood fired water heater and used a pond pump to circulate the water.
back to main page