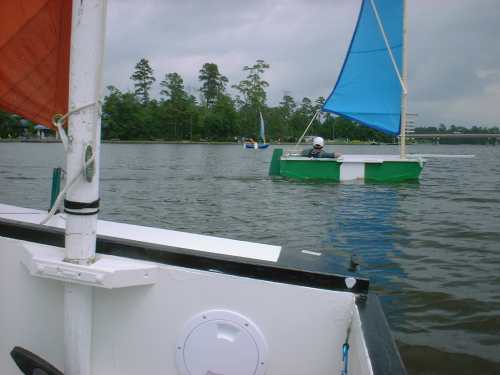 After the first duck race, the next weekend Doug Day and I took our kids to go sailing. His son was just old enough to pilot his own dink and was sailing another 8' boat that Doug had previously built.

The tiny lake we sailed in had a dock at one end, and a large dragon at the other, so we would race to the dragon, and then race back. He kept trying to race Doug and I, kept trying to pull ahead. Doug and I were able to beat him, and kept passing him, and sometimes we would fall off and come along side him to shadow his sail so he would loose all speed.

After doing that for a while, he started getting better and finally pulled ahead of us. Man did he look proud! Right up till we both passed him and he fell back into 3rd place... heeheh.....

In future trips, he switched over to sailing the duck and continued to be a fierce competitor with our weekend sails. Because he was so light, and the sails he used were so big, he was able to beat Doug and I and I remember this one day he really pulled ahead. He was like half of the lake ahead of us, and sure wasn't going to wait for us to catch up.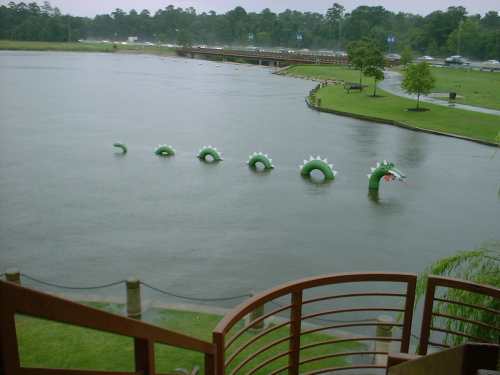 Here is a picture of the dragon, I took the picture on another day (it was raining).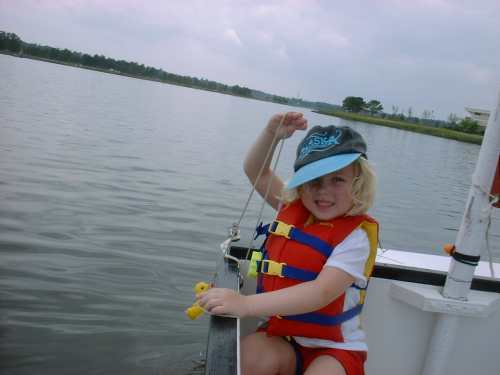 To keep sailing fun for my kids, I try all sorts of stuff to keep them enterained. One of my daughter's favorite things is to drag a rubber duck on a string as we sail.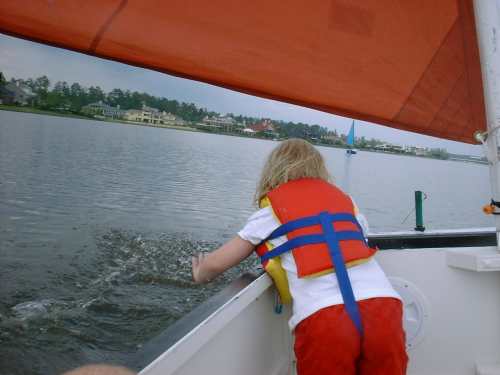 And she likes to splash a lot.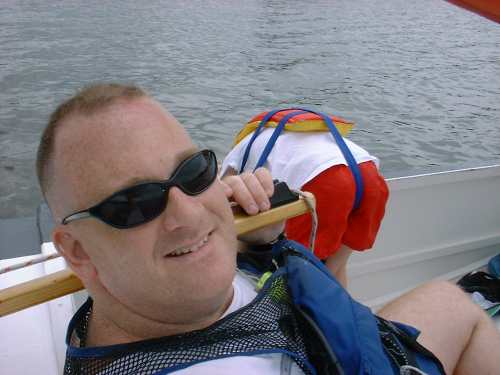 No, she isn't puking, she is just playing in the water while I sail.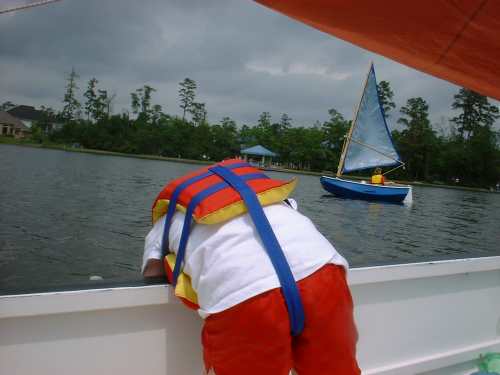 Safety Service Announcement:
We always wear life jackets (all the time), and before taking my kids sailing for the first time, I taught them to swim in their life jackets. We would goto the YMCA and they would swim in the pool with them.