PDRacer Speed Over Distance (by rowing or pedal) Record
1-20-06 record: 2.23 mph over 5.51 miles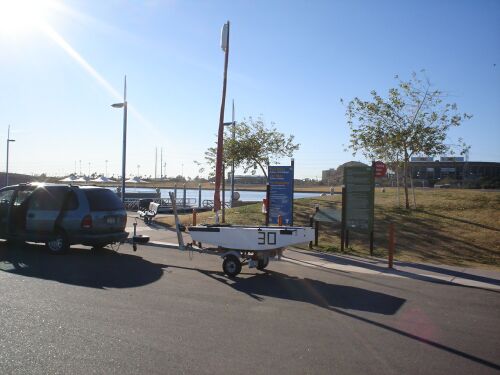 I wanted to see how fast I could row a PDRacer over 5 miles and try to set a world record.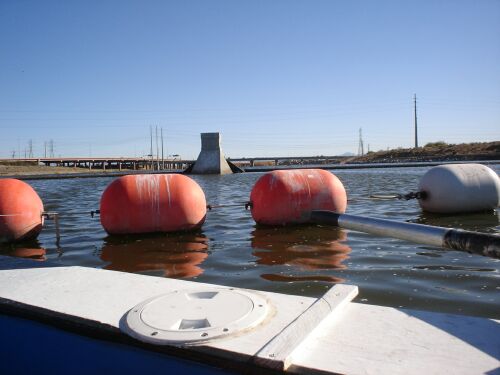 Rowing up leg 1 from the marina to the East dam at Tempe Town Lake, I was bucking a head wind. In this area, the wind usually blows in the morning and the evening, with a big dead spot in the middle of the day. I was starting to wonder if I should have gone after a sailing record today instead.
The gusts would whistle by, the bow transom was thunking away at the little 6" chop waves, and right as I arrived at the East dam and ready to turn around and possibly take advantage of the wind by following it....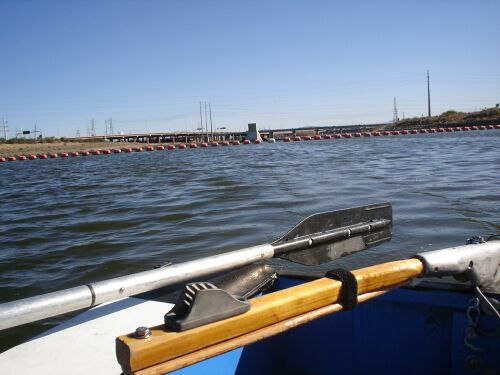 ... the wind sharply declined. I snapped this picture, you can see the cat paws in the previous photo, and just the regular little ripples in this one as I am heading back the other way.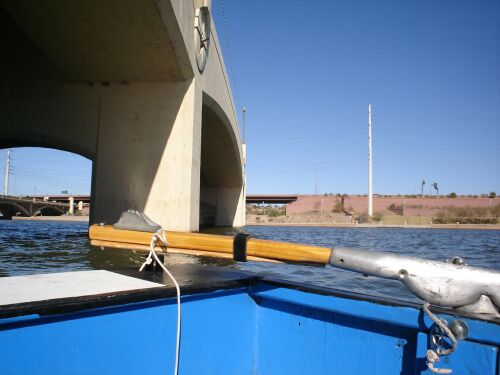 After going all the way across the lake, this is the first time I have actually measured the distance with a GPS. Point to point, the Mill Bridge on the West side of the lake is 1.38 miles from the barrier bouys on the East side that protect the East dam.
The lake does a bit of a dog leg, and my rowing isn't that straight, so I went a little further than nescessary.
A bit on the cold side, so I was wearing my socks, keeping my toes warm. Also I was sitting on a couple of boat cushions which really makes rowing my PD a lot more comfortable.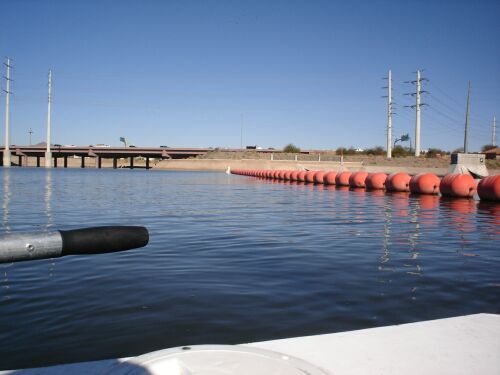 Made it back to the dam side again, and just then realized I should have been wearing my kayaking gloves. The wind was going from dying, to dead at this point. One more trip to the Mill bridge and I can head in.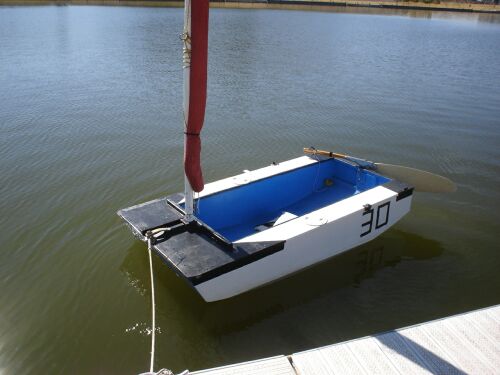 Pulling into the dock with just a little over 5 miles. I didn't have a calculator with me, so I had to wait till I got back to run the numbers. Well, I have to admit my rowing speed is below what I was hoping it would be - but then again I am not that fast of a rower.
| | | | | | |
| --- | --- | --- | --- | --- | --- |
| Leg Completed | Where | Time | Min Per Leg | Distance | Speed |
| | Marina | 9:54am | 0 | 0 | 0.00 |
| 1 | East Dam | 10:23am | 29 | 0.85 | 1.76 |
| 2 | Mill St. Bridge | 11:01am | 38 | 1.38 | 2.18 |
| 3 | East Dam | 11:36am | 35 | 1.38 | 2.37 |
| 4 | Mill St. Bridge | 12:10pm | 34 | 1.38 | 2.44 |
| 5 | Marina | 12:22pm | 12 | 0.52 | 2.60 |
| | | Totals | 148 | 5.51 | 2.23 |