Ducks Flocking Together In Pennsylvania
By Richard Frye, Capt. AH #527 "WET ROOSTER" (6ea 9ad 14ar)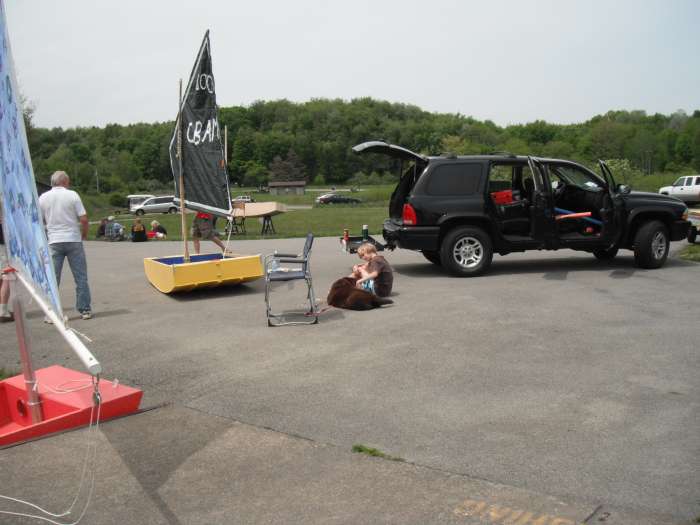 The ducks begin to flock together, and as they gathered our old chockolate lab Kaitlin made a new friend from the C-bam crew. She needed to go check on Monkey to see what he was up to!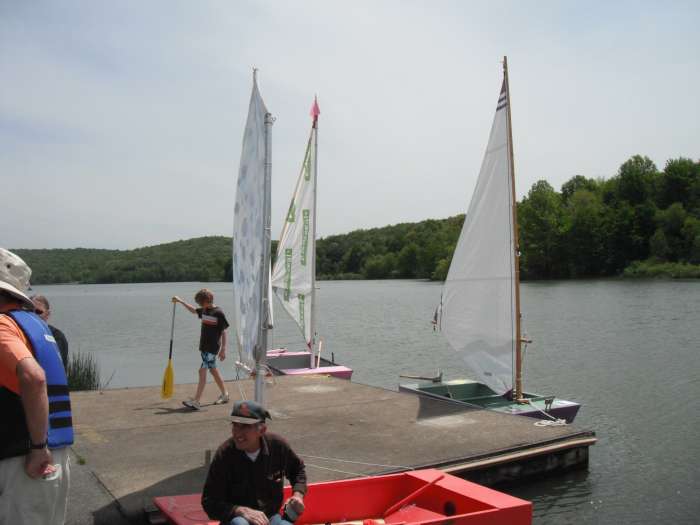 John Bridges with Lavender Duck showed us his new poly sail from Dave Gray at www.polysail.com and it was really nice. He did an excellent job of putting things together as he always does, and we had 7 boats plus one or two other duckers might have showed up that couldn't stay while we were sailing.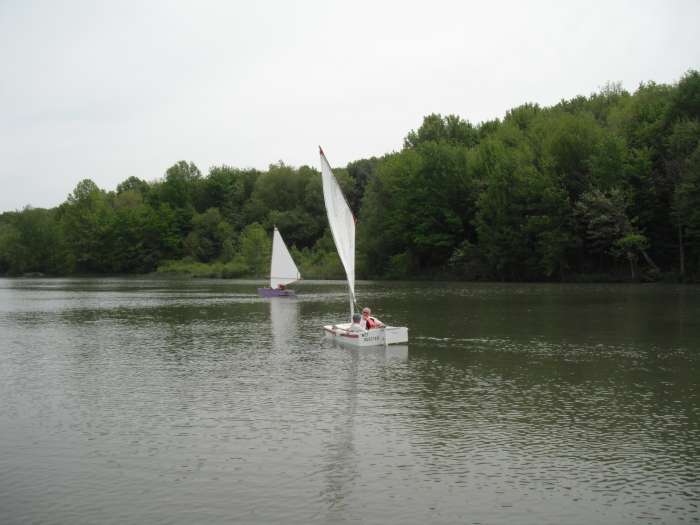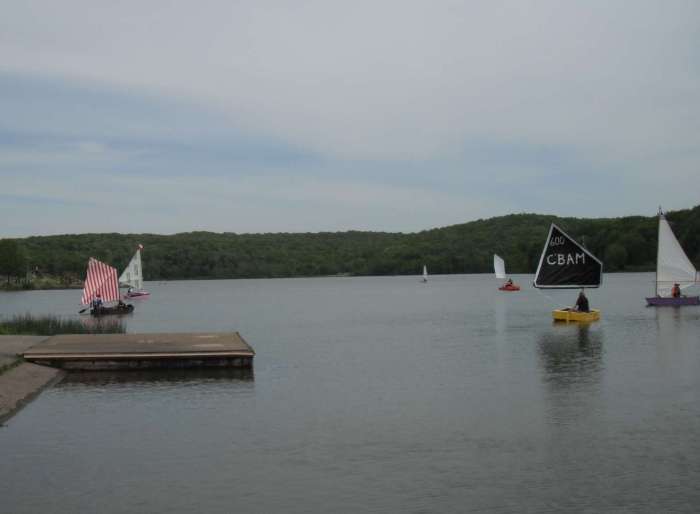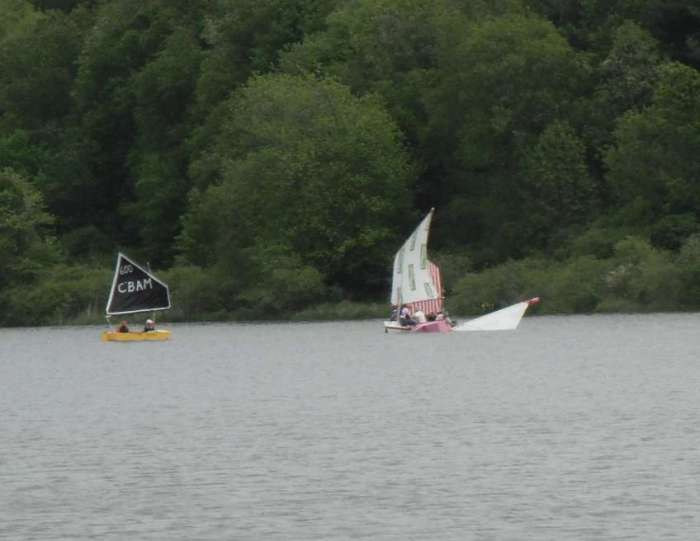 Wet Rooster has a guest named Howard on board that wants to build a PDR. The ducks are putting around the lake happily and suddenly a duck goes down! It was The Pink Pearl! Yikes!...Chrissie loaned her boat to a friend to go sailing and some how he got knocked down. So it was Wet Rooster to the rescue!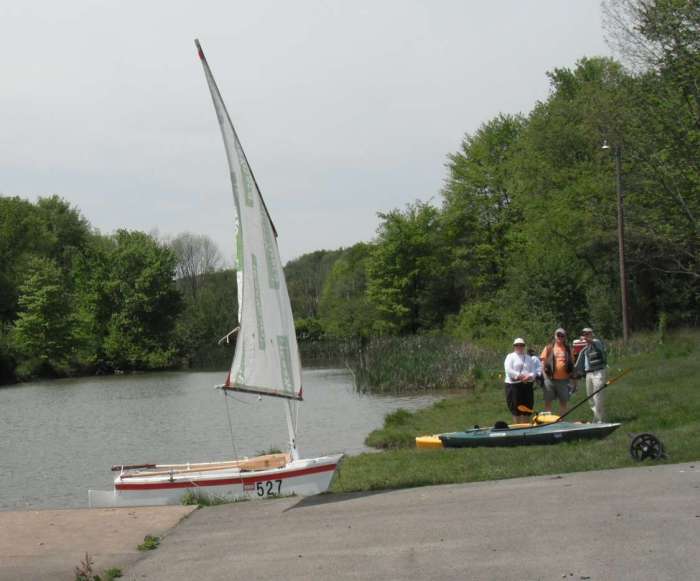 Me, Monkey and Howard helped pull our friend on board Wet Rooster after I got on board The Pink Pearl, took her mast down and rolled up her sail, we all sailed back happily to the landing. So now, Wet Rooster has 4 onboard, me, Monkey (first-mate) Howard, and David! Hagar the Horrible and C-Bam were on standby to assist if needed. I got aboard The Pink Pearl, bailed out the water with Howards help, rolled up her sail and sprit boom around the mast, then stowed everything, oars, etc. to make it easier for Ken...the safety boat operator to pull her back to the landing. Our friend was a little wet but nothing serious and was ready to sail again!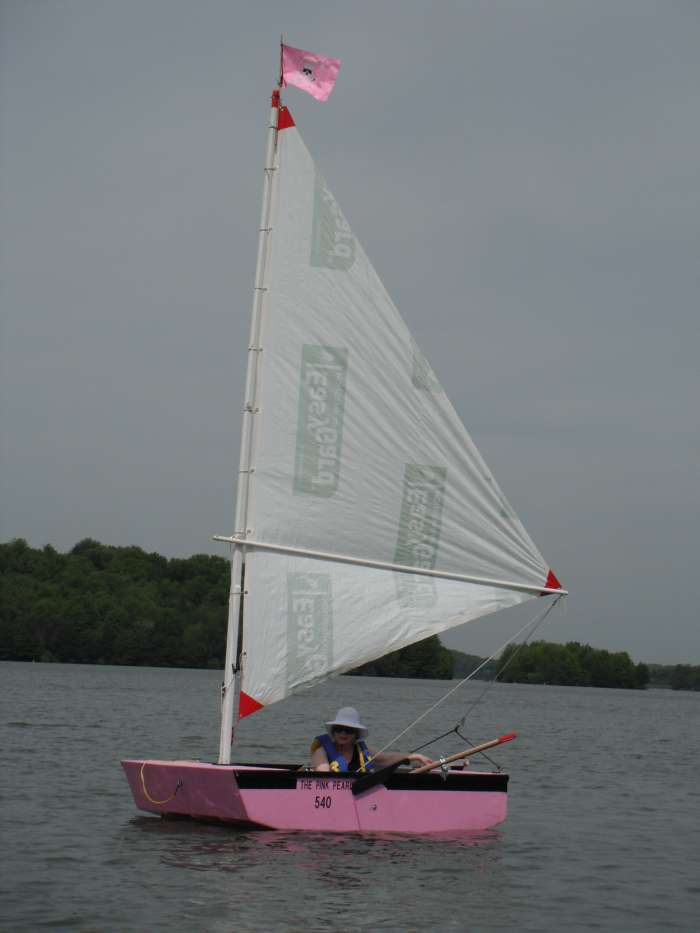 I'm still trying to figure out how that happened! He was sailing good with me a few hours earlier! We had 5 to 10 mph winds! But things do happen! I dumped Wet Rooster when there was NO wind! I ain't figured that out either! And that was at the landing last year! We all had a wonderful time and it was good to get the ducks wet again! Looking forward to the next gathering of the flock, and excited about our sailing season! Most important was that Chrissie made her first solo sail since the auto accident last year and sailed much longer than I thought she would. She had a lot of pain but hung in there for a long time then rested with our big dog. It was great!

Quak and later quak!
R