Rule 1 - Rocker Shape
Is it class legal to alter the rocker shape a little bit to make it better?
NO - Intentionally modifying the rocker shape is prohibited. Please re-read the top of the class rules page where it has always said, we all use the same shaped hulls and modify the other parts -- and why we do this. Also please re-read rule #1, which has always said we use the same rocker shape.
Is the "defined hull shape" shown on the top of the rules page the shape that you cut?
Or is it the final size of the boat?
The defined hull shape (DHS) is the perfect shape of a finished PDRacer, however most of us use that as the cut plan for our side panels and then add plywood to it. The tolerances are setup loose enough so that you can use it as a cut plan.
With the measurement rule, do you measure it before or after the bottom is attached?
The measurement technique is performed on a finished boat.
Are the end points (where the bottom meet the transoms) movable within the tolerance?
First you must understand that the line between the end points creates the base line which all other tolerances are measured from. This is the only thing we can use as a base line, we can't use the edge of the plywood we cut the panel from, because that edge is now gone, and the top sheer lines of all our boats are different. So rather than questioning if the line is within the rocker tolerance, you need to understand that the string line defines the rocker tolerance area. And that tolerance area is shaped like the mouth of a "smiley face".
If I just made a 10" high hull, could I extend the corner of the bow chine forward ?
No - The lower 10" of the hull must conform to the same shape as a boat built with the exact same 18" high defined shape, which includes the bow angle. See the essay on how to cut the bow angle.
Is there a flat spot in the rocker, between station 3 and 4 ?
Rule 1F says the rocker must be a curve, so why is it flat between station 3 and 4 ?
When you attach the plywood to the bottom, it takes whatever you have and smooths it out to a curve so realistically, it would be very difficult to create a true "flat spot". Also understand when determining if the hull is class legal or not, it is only measured at the 7 station marks. So as long as you make sure to cut accurately in those 7 locations, your hull curve will turn out just fine.
The point of rule 1F is to eliminate weird shapes between the station marks. Weird shapes like steps, bumps or some other unforeseen shape.
Another thing you might want to know, is that our curve is not a natural bend from bow to stern, it is a hybrid made by combining 2 batten bends. You can read more about it on the page: Designing The Puddle Duck Racer
Is it class legal to sail a hull Upside Down?
No - if you turned it upside down, the top would then be the bottom and required to match the other boats. Same restriction would prohibit a boat from being sailed on it's side.
Can I extend decks or cabin forward (or aft) of the hull?
Technically no. Doing so would create external flotation. However many people do that for decorative or cosmetic reasons, and when racing other duckers realize that such extensions produce extra windage on the hull, which is not advantageous for racing -- and realistically would not ask for the penalty in rule #7.
Rule 2 - Flat, Parallel Sides and Transoms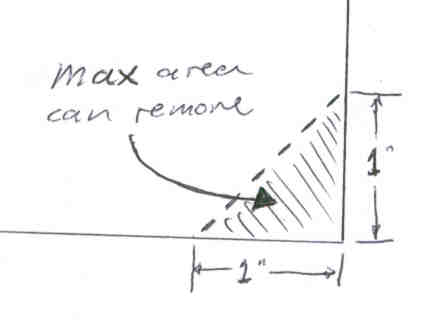 Explain the rounding more - is that the radius of the router bit?
The 1" chine removal allowance is really more like a fillet. The drawing to the right shows what can be removed. This rule is intended to allow for fiberglass hulls to be molded, they need rounded corners rather than sharp ones.
Is it OK to mount a rub rail on the sides below the 10" line?
Yes, as long as it does not violate the fin width tolerance. It would the same as attaching a fin to the side of the boat as allowed in rule 6, think of it as a leeboard permanently attached in the up position. This also allows you to use external chine logs as long as the logs do not violate the fin width tolerance and the flat surface of the sides are still within the hull width tolerance.
Is it OK to flare out the hull hull above 10" ?
NO - The rule says flat sides, flat transoms. So as the sides and transoms continue up, they must continue to be flat. If you flared the sides out, then that area which flares out would provide external flotation. During a race, if a boat is knocked over and it had flared sides, that external flotation would make it easier to right and thus be an unfair advantage.
There is a special exemption specified for above the 10" line that is intended to allow external gunnels, small hiking wings and leeboard support structures.
Is it OK to narrow the hull above 10" ?
Yes - and most of us already do that in the form of decks and cabins on top of our hulls. As soon as you break the plane of the side or transom and turn in wards, all of that is considered "inside" the boat. The flat side rule is intended to prevent you from flaring out above the 10" line and creating external flotation.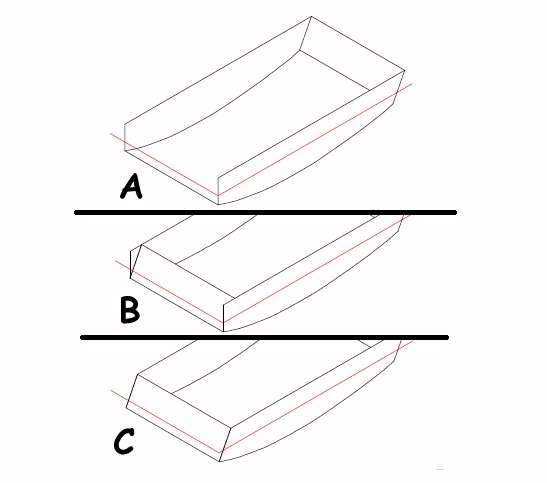 Can I have a stern transom that tilts inward?
Yes - Rule 2 allows for the stern transom to be partially or fully open, this is to allow for a self draining boat similar to high end racing dinghies. The sides must remain complete up to the 10" line, so the most basic shape that must be conformed to is shown as A in the diagram.
As soon as you turn in wards into the boat, that is considered to be inside the boat. Would be the same as the decks on our airboxes, they are also inside the boat. So as shown in as B in the diagram, a stern transom that tilts inward is OK.
The part that you don't want to make a mistake on is trimming the sides to match that inward transom shown as C in the diagram. That would be altering the lower 10" of the sides and is not allowed.
I see the "slots for fins are OK", so can I make a 3 foot wide slot down the middle (and entire length) of the boat?
No - The rule says slot for fin, and the fins have a width tolerance, so the slot can not be wider than that.
Is it OK to have a golf ball like dimples below the 10" line?
No - The rule says the surfaces must be flat. The bottom is curved in one direction, so in relation to the bottom, flat obviously means across the beam. It has been suggested that the grain of the wood has a texture and is not flat, but this is an irritating knit, and if you really want to pick it, no matter how smooth the surface is you could continue down to the molecular level to "technically" prove it is not flat. It is a common sense thing and intentional dimples are not allowed.
Is it OK to have a take apart hull?
Is it OK to have a removable section, so I can drop in a motor or hobie mirage drive?
Yes - This is more of a common sense thing though. If you have a duck that has multiple parts that are bolted together and taken apart (like for for easy transport), then you will end up with a seam. Everyone can recognize this seam will create drag, it is not advantageous to have one. It is a common sense thing and the bolted together shape must stay within tolerance range while used in a class racing. A removable section to drop in a propulsion device would be the same, such as a trunk for a hobie mirage drive.
Rule 3 - Hull Width
I live outside of the USA and am only able to find 1200mm wide plywood (3 foot 11 1/4 inches wide).
Can we make our boats 3' 11-1/4" wide and still be in spec?

Yes - the beam has a 1" tolerance, so the narrowest you can make a boat is 47" wide, and widest is 49", so your plywood would fall inside the tolerance.
Rule 4 - Emergency Flotation

If you capsize and flood the boat, you must be able to self recover it in deep water.
** Please practice recovering your boat, so when the time comes, you will know what to do.
Rule 5 - External Flotation
Are mast head floats permitted?
Yes - They are the only exception to the rule, and are highly encouraged. If you dump your boat and the mast head float hits the water, you are screwed anyway (race time wise). So there is no need to prohibit them.
Rule 6 - No Lifting Fins & Fin Width Tolerance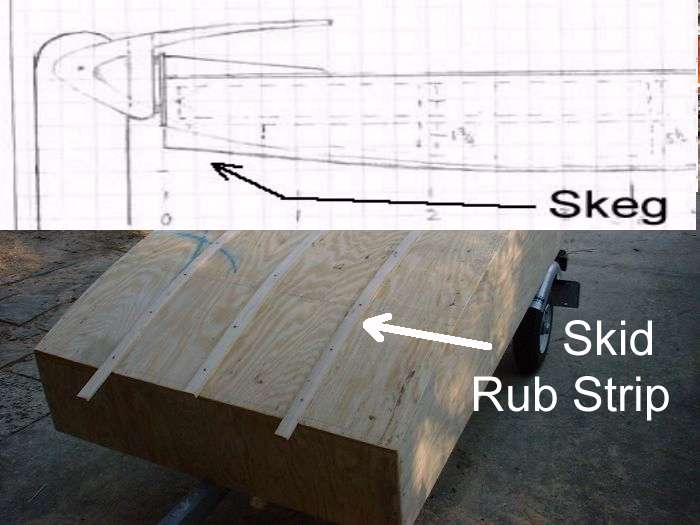 Is it OK to have a skeg on the bottom of the hull?
Yes - as long as the skeg is not wider than the fin width tolerance. In the simplistic way we view parts of our boat, any object attached to the outside of the hull below the 10" line is considered a "fin". So all of the following objects are also considered fins, the only difference being the name that they are commonly called:
Rudder, Leeboard, Centerboard, Daggerboard, Keel
Skid - a small strip of wood attached to the bottom, intended to protect the hull, or stiffen it.
Rub Strip - same as a skid
Skeg - a small fin that is fixed to the hull. Most of the time it is in the stern area, sometimes near the bow.
Shoal Keel - A keel fixed to the bottom of the hull, typically shorter than 12"
Bilge Keel - Same as shoal keel, but typically shorter than 6"
Bilge Board - Same as bilge keel
Is it OK to have a skeg extend forward of the hull ?
Is it OK to mount a rudder on a support that extends aft of the hull ?
Yes - Fins may extend forward and/or aft of the hull. Most of us already do this, our rudders extend beyond the stern of the hull and rudders are fins. For mounting a fin (such as a rudder) on a support structure, rule 2 has a special allowance for support structures above the 10" line.

Is it OK to use external leeboards or side daggerboards?
Yes - fins may be attached to the side (or both sides) of the hull and structures that hold them may be attached there also. The structures holding the fins may be odd shaped and are not required to be flat.
The fin and structures below the 10" line must not be wider than the fin width tolerance.
Structures that are above the 10" line have a special allowance in rule 2. That rule is intended to allow small hiking wings, leeboard guard and other similar support structures.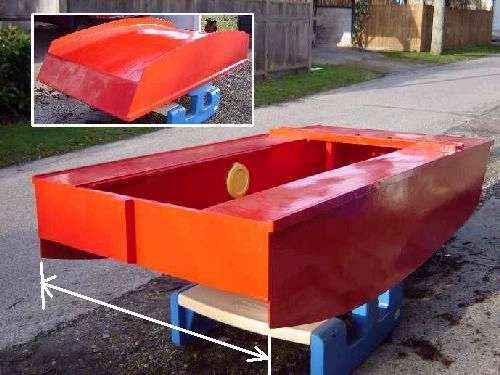 Is it OK to use a full length keel on the side of the hull?
Yes - Full length fins may be attached to one or both sides of the hull. This also creates a small loophole in the overall width tolerance, your resulting hull could be the maximum hull width tolerance plus 2 fin width tolerances. Everyone can recognize that a slightly wider hull will not have an advantage, so is not an issue that needs to be ruled out.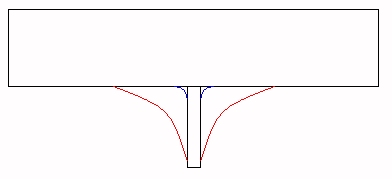 Is it OK to attach a shoal keel with a large fillet
such as the red line in this drawing?
No - The large fillet depicted with the red line would exceed the fin width tolerance.
Is it OK to have more than one keel? Such as 3 shoal bilge boards?
Can I bolt 2 keels together?
You may have multiple fins. If you attach 2 or more fins together, they become a single fin, and the combination of them together must fit within the tolerance as if it were a single fin.
Is it OK to put a box keel on the bottom?
Is it OK to have a foam filled keel?
As long as the fin does not exceed the fin width tolerance, it is OK. I know that technically if the fin is less dense than water, then it would provide some external flotation, but realistically since our width tolerance is so small, the flotation lift it would provide is so small, it doesn't matter.
Is it OK to have canting or angled keel(s)?
Is it OK to have a winged keel? Bulb? End plate?

No - all fins underwater must be vertical. Anything besides vertical would provide lift and be considered a lifting fins, so they are prohibited. This applies to the sides of the fins, the cross section of a fins have all sorts of shapes, many resembling a teardrop such as a NACA foil.
Rule 7 - Don't screw with the hull shape
Non-Class Legal At Race
I suggest that duckers measure their own hulls, that way they know if they are class legal. Regardless of any pre-knowledge of status, Rule 7 provides protection that any boat with a PDRacer hull number may still participate. As indicated, they delay their start and their results do not count (they don't show up on the official score card).
One possible option is non-class legal PDRacers may have a specific start time just after the main fleet, so they are running their own race, but still sailing with the main fleet. Because some duckers are faster than others, they will finish mixed together. After the race, the disqualified hulls will be pulled off the official score card, and listed together on a second score card. Another option is the non-class legal boats can run their own seperate race.
Why not just let all hulls sail same time, regardless of measurements?
Part of our competition is building skill to make an accurate hull which fits within our tolerance range. As you can see, rule 7 keeps everyone sailing together, so the duckers that put the extra effort into building an accurate hull have an advantage. It is the same as other aspects of racing PDRacers, the duckers that put extra effort into training and building fast sails enjoy an advantage. If you want to enjoy the same advantages they do, then you need to put in the same amount of effort.
If your hull is disqualified, your friends will probably help you build another one, or atleast help you with key parts so you can fully race against them. We love to build boats, and what a great excuse to build another. As stated on the registration page, you can move your number over to the new hull.
Local Fleet Hull Certification
For bid events and the world championship race, all hulls must be measured & certified by the host, because that is our "big money" event. For local fleets that have regular racing, they do NOT have to be measured before each race. One organizer asked if would be OK to make his own stickers so that he could just measure the hull and slap the sticker on, which is a great idea.
In the same way that we look to the race organizer to determine where the buoys go, pick a start time, make sure the right of way rules are followed, we also look to them for certification of the hulls so the event has integrity & the race has meaning. If his duckers are confident in his sticker system, then it works for us. The main goal is to find ways for our races to be fair, but making sure the compromise has the right balance, so we don't smother our racers with red tape.
If an event organizer fails to confirm the integrity of the race, that disrespects the huge amount of effort the duckers went through for attending the event. They probably won't complain, instead they simply won't return, they will look for other event organizers that will provide them with a race that follows the rules and has integrity. We have no protected territories, so any ducker may organize events.
Trophy Exchange
All duckers that attend an event with a PDRacer, regardless of being class legal or not, should participate in the homemade trophy exchange. The trophy is a token showing up that day to enjoy sailing with you friends, the score is the competitive placement.
The Net Result Our Class Rules Produce
Hard core racers get out front and can have a serious competition
Casual racers get to race with them also
Everyone is on the race course together
Everyone goes home with a trophy
If anyone with a delayed start hull wants to race fully class legal, they can build a new hull and move their number to it.
For non-racing (non-stunt recognition) purposes, you can do anything you want with your PDRacer
Suggesting Rule Changes
Why won't you change the rules so ANY boat can be class legal?
A sailboat class is a collection of sailboats that all meet a common definition. For the class competition to have meaning, we must have a rules of what is allowed, so the competition can be fair. Otherwise if we started breaking one of our rules, then would just be a matter of time before other rules were broken and soon we would end up with a hodge podge of random boats and our competitions would be pointless.
Because we are a class with a defined set of rules which we enforce, we were able to acquire an internationally recognized handicap rating. This rating permits our class legal ducks to compete against other legitimate & recognized racing classes.
How about limiting sail rig and/or requiring only polytarp sails ?
NO - One of the main concepts of our class is that duckers may use any type of sail rig they wish. The reason we make so much of a fuss about the hull shape is to keep that part consistent, so that the engineering part of our competition is mostly in the sail rigs that duckers build and/or adapt to their boats. Note that the first duck race was 2 dacron production sail rigs VS 1 polytarp home made DIY sail rig.
Would you consider making a rule change to eliminate fiberglass hulls?
I am concerned the cost of the class will rise and plywood boats will not be competitive anymore?
NO - Using whatever materials you want is part of our class concept. Because of the small size of our boat, they will always be easy and cheap to make for a garage level competitor. A hull made from common plywood can be made much lighter & just as smooth as any fiberglass or carbon hull, for much less money. Duckers have built plywood hulls in the 65 lb range, and inexpensive foam ducks have been made as light as 38 lbs. The point of fiberglass or carbon fiber is to have a durable hull that will last many years, and that is a good thing. If you are worried about an arms race of expensive materials, see why this will not be a problem for our class because of our flexible nature: Arms race and making expensive boats
Would you consider making rules to regulate hull weight?
NO - Our class concept includes duckers building their boats as light or heavy as they want to. Realistically the main weight difference between hulls is the skipper: some duckers are as light as 80 lbs, and many (including me) are in the higher range of 250 to 350 lbs. Contrary to the hype about light hulls, the proven truth is that a heavy durable hull with a heavy skipper has a sizable advantage in medium to higher winds because they can more easily control the boat and use their "live ballast" as leverage against the sail to convert more wind into forward thrust.
Will you change [something] to make it easier for me to compete in the Everglades Challenge?
First you must understand the meaning behind doing stunts like the Everglades Challenge. The allure is because it is very difficult to do, and most who attempt it, do not finish. It is significantly more difficult to accomplish in a pdracer because you have to overcome the additional hindrances of our class legal boat. It is that extreme difficulty that makes it an accomplishment worthy of notice & respect.
If the class rules were changed to make it easier to accomplish the stunt, that would directly diminish the value of accomplishing that stunt and disrespect all previous duckers who accomplished their extreme voyages (such as the Texas 200 duckers, and Scott in the EC 2012) -- because they made the effort to achieve them in class legal pdracers. By the same token, using a boat you know is not class legal and then claiming you accomplished a voyage in a PDRacer is just as disrespectful -- you would be asking for the same recognition, without going the full distance to earn it.
What Changes Are you Willing To Make?
The rules protect the original concept of our class, as I understand it. The changes I make to the rules are to further strengthen the original concept against unforeseen issues or those that seek to step over the line and violate it. I didn't just pull these rules out of my butt, I spent years studying the history of other classes, fully developing our concept which is significantly different than everyone else, and our rules have been continually challenged over the years. With that experience I have made small tweaks to address real world issues.
If there are real world issues that affect our class and need to be handled to protect our class concept (as I understand our concept), I am all ears and am glad to hear suggestions. Please include real world examples of the issues that are going on.
Also realize, asking for a rule changes to suit only your personal needs is an act of disrespect and disloyalty to the class. It would be presumptuous to request the entire class to change, just for your individual whim.
Why We Have Class Rules
With the appearance of such a simple boat, open community and relaxed attitude towards the fun racing we do, some have voiced a question as to why we have class rules and why there is an emphasis on adhering to them. For a race to have meaning, there must be rules which create a definition of what is is allowed, so the competition can be fair. In addition to fun casual sailing, we are a serious racing class with an internationally recognized handicap rating. That is where the "PDR" nickname comes from, our full rating is: PDRacer, All Rigs PDR D-PN: [140.0]
Openly adhering to our class rules shows respect to our other community members, the effort they put into their boats, effort to attend events and help organize them.
Because membership and participation have always been voluntary, by registering a boat or utilizing (or participating in) PDRacer class related resources, you acknowledge your agreement with our class rules, standards and all terms specified or implied on this website.
Basic Concepts About Being Class Legal
When you build your boat, you need to try and be class legal. I do not require measurements when you register (never have), only need your word that you tried.
If you race or want to receive recognition for a stunt, you need to be fully class legal and will be checked.
For non-racing (non-stunt recognition) purposes, you can do anything you want with your PDRacer.
If your boat is measured out of tolerance, you keep your hull number and your boat continues to be considered a PDRacer. You honestly tried to make a class legal boat, and that is what matters. If you wanted to race fully class legal without the delayed start, you could fix it or build a new hull and move your number to it.
A Puddle Ducker is someone that has a PDRacer hull number. There are many duckers that have no desire to race, and they are just as much a ducker as any of us. If you don't race, then nobody is going to measure your hull.
Removal from member list
At any time you are welcome to request to be removed from the member list. I am glad to remove your email address and/or change your name to an alias - or remove the listing completely. Also if you abuse our community resources or do something else that is detrimental to the class, I may remove you from the member list at my sole discretion.