Puddle Duck Racer Sailboat Class - Newsletter 11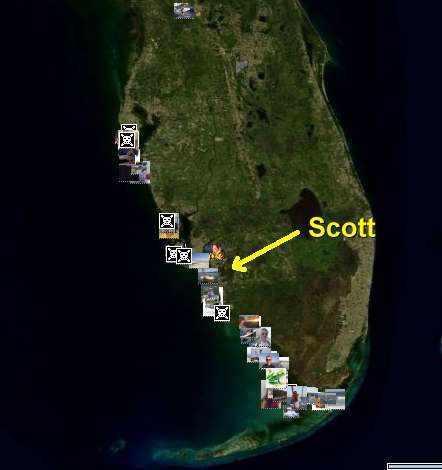 Congratulations Scott, He Made It Past CP1 !!!!!!
The Everglades Challenge is a race where you do your best to complete the course in the shortest amount of time. Being the toughest small boat race on the planet, the way it plays out in reality is many are unable to complete the event and it becomes a comparison of how far the competitors made it before dropping out. That is why their score card indicates each checkpoint that everyone makes it to, so you can see how far each made it.
This year's event had heavy weather. Of the 60 competitors who were at the start, 5 decided not to leave the starting beach. On the way to CP1, Scott spent the first night on an island and when he woke up, it was blowing worse than he had ever experienced. He took an EC rules allowed weather hold and was hoping the wind would reduce down a bit. After 5 hours of holding, he left the island and headed back out to continue on the course. Later he made it through CP1, and 14 other competitors were unable to make it that far.
A bit further down the course, Scott had a knock down and lost a bunch of gear. The picture to the right shows how far Scott made it. Scott self recovered, sailed back to shore and decided that was as far as he was going to go this year. Besides being the first puddle duck to attempt the Everglades Challenge, his final score put him right in the middle of the pack:

5th place in class IV
31st place overall
Despite all the limitations of sailing our little boat, Scott beat a bunch of the other participants fair and square, and most of them were in boats specially designed & built to compete in the EC. Like all the Texas 200 duckers before, Scott has added more evidence that with the right skipper, our duck is a tough little boat and able to stand up to mother nature just as good or possibly a bit better than her competitors. Scott learned a bunch of other neat stuff like:
Because the PDRacer is a short boat and can fit in the trough between waves, she can handle the really high winds and big waves very well. A longer boat would get tossed around more.
Most boats have a teardrop shaped outline which has them sway from side to side in big waves, but because our duck has a rectangular footprint, she can stand flat in those same conditions and contributes to how well she can take heavy weather.
Learning something from Matt Layden's track data, Matt avoided the open water. Instead, Matt sailed to the windward shore and would stay close where the water was smooth, but still could use the big winds.
When Matt arrives at a bridge that has an opposing tidal current flowing under it, instead of sailing through, Matt would get out and walk his boat along the shore to get to the other side, which is allowed in the EC rules.
The most important factor for completing the Everglades Challenge is experience and determination.
In the end, the winning class IV boat (monohull boat with a sail) was crewed by Gary Blankenship and John Wright (Lugnut & Karank). Just so happens, not only is John Wright a puddle ducker, but he completed the very first Texas 200.
I want to thank Patrick Johnson, he was ground support for Scott, transported him around and also took care of him after the knock down. Am sure that Scott got a bunch of other help from other duckers, I don't know who they all are, so I'll let Scott announce them in his forum:
Scott's EC Duck forum.
2012 World Championship - Time To Register
There are 44 puddle ducks in the immediate surrounding area of the world championship. Anyone with a registered class legal pdracer is eligible to attend for free, and the number of attending ducks is likely to be very significant this year. With so many attending, this is going to present some real logistical challenges. John Bridges and his team are currently trying to discuss different possible solutions to handle such a big event. Ken Sherwood created a web form so you can sign up and indicate if you are planning to attend. They need this info to make plans for the event. Below is the signup form, and it is also on the world championship page.

Signup for World Championship Race
PDRacer World Championship Page

Youths Also Competing For World Title
Anyone with a registered class legal pdracer can enter the competition for free -- doesn't say anything about age restrictions. There is the news that some parents have built special ducks for their kids to use in the competition, and a couple of the local scout troops will be participating. Not only am I very excited with this news because I was a scout troop leader for 6 years and am a strong believer in their programs, but also because when I was a kid, I always resented being excluded from competing against adults, especially since I felt I was a better competitor than most of them -- I never got the chance to find out on a real course sailing against them, only when casually racing. I am very excited that we can offer this opportunity, and also I want to warn you: if you plan to attend, you better sharpen up your racing skills and be ready, otherwise you may have to explain why some kid was able to beat you.
*New Major Event*
Port Alberni Centennial Puddle Duck Hatch and Regatta
David Whitworth is putting together a new major event. On August 4th, Port Alberni's Centennial Weekend, the Alberni PDRacers are holding a Regatta in the Port Alberni harbour. There will be races, a sail-past at Harbour Quay, and prizes for the best boats and best dressed crew. Several weeks before the Regatta there will be two hatches where the club will build a total of ten boats to add to the four already built or under construction in the city. This event is open to racers from around the world! They are also going to use the event as a bid to capture the rights to host the next world championship.
Their promotion machine is already rolling, they were able to get front page in the local newspaper, are being shown on TV and have done a bunch of other neat local promotional things to get their fleet building.

More info at their website: Port Alberni Centennial Puddle Duck Hatch and Regatta
New Articles:

Want to post an article? Post Article to PDRacer.com
Want to see latest hulls registered? Recent members added
Subscribe To The PDRacer Newsletter